Alibaba: Worth Buying The Dip
Alibaba (BABA), the Chinese e-commerce juggernaut, has been under pressure for months now. In fact, while the S&P 500 and other major averages are trading around all-time highs ("ATHs"), the company's shares are still down by about 25% from their highs achieved roughly five months ago. Alibaba also has underperformed China's benchmark average in the past months. Despite the recent "controversy," I remain very bullish on Alibaba. The stock is cheap, trading below 20 times forward EPS, and the company is set to deliver very robust revenue and earnings growth going forward. The technical image looks strong here, and the uncertainty surrounding the firm is likely more than priced by now. Therefore, I expect the company's share price can move substantially higher form here.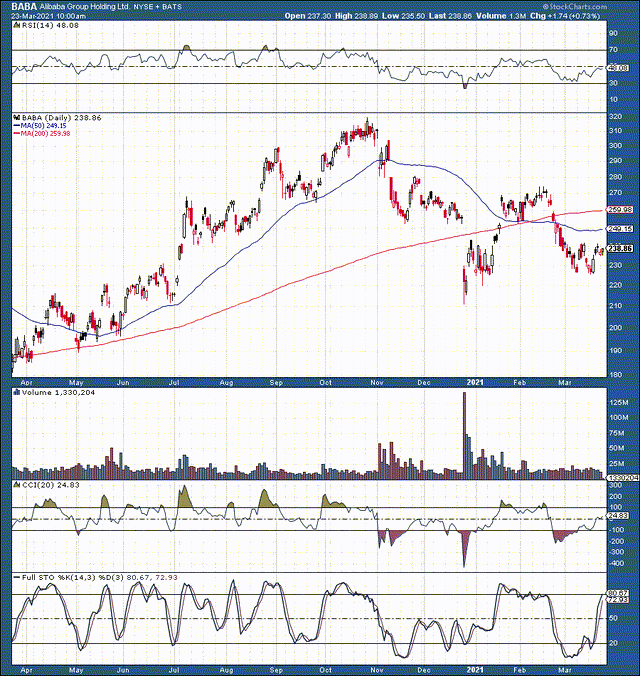 Source: StockCharts.com
The technical image appears quite favorable now as the stock has corrected by as much as 35%, and is still down by roughly 25% from its ATH. Moreover, we see a W-shaped bottom developing here. The stock also put in a higher high in the latest leg lower. Additionally, the RSI, CCI, and full stochastics are turning higher here, implying a likely improvement in momentum and price action going forward.
Growth Remains Abundant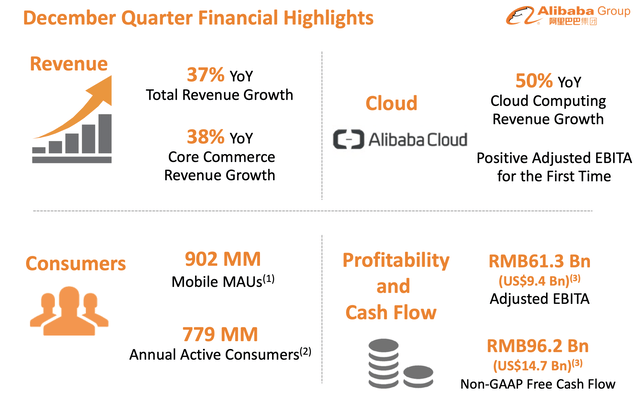 Source: Alibabagroup.com
Growth remains extremely robust at Alibaba, as fiscal 2021 Q3 YoY revenue growth came in at 37% and full-year revenue growth is expected to clock in at a very impressive 39% YoY. Additionally, fiscal 2022 is anticipated to be another extremely strong year, with expected YoY revenue growth at roughly 31%. The company's cloud business continues to grow rapidly, expanding segment revenue by 50% YoY, and delivering revenues of about $2.5 billion last quarter.
Cheap Valuation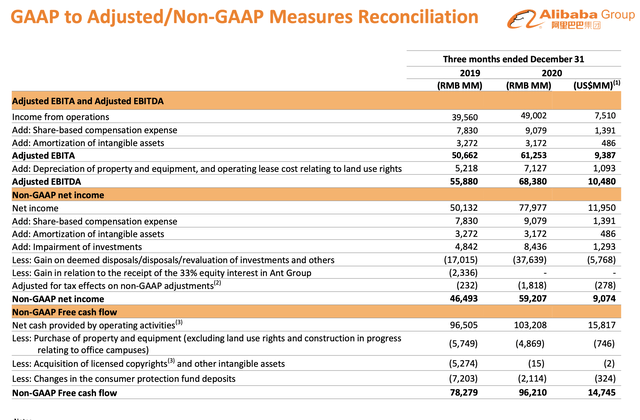 Despite Alibaba's notable size and dominant market position, the company is still growing revenues at around 30%-40%, which clearly puts it in the "growth stock" category. However, Alibaba is becoming increasingly profitable at the same time. The company's Non-GAAP EBITDA grew by over 22% YoY last quarter. Non-GAAP net income grew by about 27% and came in at over $9 billion for the same time frame. Free cash flow (Non-GAAP) expanded by roughly 23% and came in at roughly $14.75 billion for the quarter.
Disclosure: I am/we are long BABA. I wrote this article myself, and it expresses my own opinions. I am not receiving compensation for it (other than from SA). I have no business ...
more