Alibaba Stock Is A Strong Buy Right Now
So, Why the Declines?
Some of you may be asking "why the massive declines in the first place?". After all, this is not some small cap, this is Alibaba, and we're talking about market cap losses worth hundreds of billions of dollars. Well, there are multiple reasons, a sort of perfect storm, if you will. First, there was the Ant Group controversy, then there was China's "attempt" to crack down on Alibaba and other powerful tech firms, then the hedge-fund blow up, then concerns over U.S. regulations, Alibaba's fine, now the "bad earnings" report, and more.
One thing that all these factors have in common is that they are all transitory in my view. The Ant Group situation should get resolved, and let's not forget that the business is extremely profitable. China's increased regulation on its big tech should not have a lasting detrimental effect on Alibaba or the broader industry. There's little to no incentive for the Chinese government to harm its biggest and brightest technology companies. The Archegos blow-up is now old news. I haven't seen any evidence that suggests top Chinese firms like Alibaba will have issues complying with the latest regulations in the U.S. Alibaba's $2.8 billion fine has been paid, and while it may seem like a lot of money to you and I, the sum represents about 4% of Alibaba's 2019 domestic revenues.
Were Earnings Really that Bad?
Let's take a closer look:
Fiscal Q4 revenues came in at about $28.6 billion, nearly a 4% beat over consensus estimates.
Fiscal Q4 EPS came in at around $1.58, a slight miss of about 7%.
Due to the $2.8 billion fine the company swung to a net loss in Q4.
Excluding the fine, the company's operating income would have come in at around $1.64 billion for the quarter, roughly a 48% YoY rise.
Q4 and Fiscal 2021 Highlights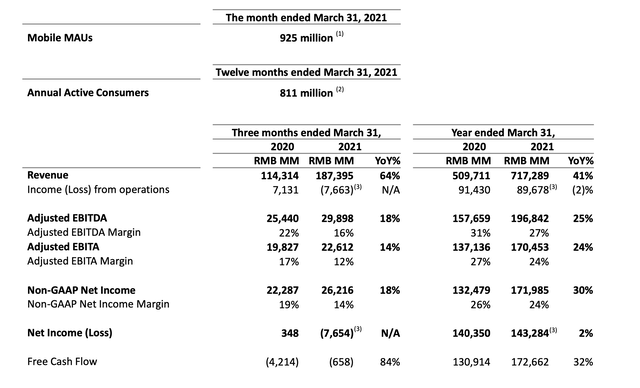 Source: Alibaba.com
We can see that the company is steadily climbing toward 1 billion users. We see the huge 41% YoY revenue increase for the full year as well as the massive 64% YoY jump in revenues last quarter. As I mentioned earlier, Q4's operating loss was due to "the fine." This also is why we see a 2% YoY decline in operating income. In fact, excluding the fine, Alibaba would have produced an operating income jump of more than 18% on a YoY basis. We see strong double-digit gains in other profitability metrics. Also, we would have seen about a 15% YoY gain in net income once adjusting for the one time charges related to the fine.
Disclosure: I am/we are long BABA, BIDU, NIO, KWEB, CHIQ.
Disclaimer: This article expresses solely my opinions, is produced for informational purposes only, and is not a recommendation to ...
more