Alibaba Slapped With $2.8 Billion Anti-Trust Fine As Analysts Ponder Whether Worst Is Over
"It is an important action to safeguard fair market competition and quality development of internet platform economies," the company said. "It reflects the regulators' thoughtful and normative expectations."
Analysts said the fine alone would not significantly affect Alibaba's operations. The company has $48 billion of cash on its balance sheet as of the end of 2020 and earned $24 billion in net profit last year alone, another reason the fine is merely a slap on the wrist.
But Li Chengdong, chief executive of Dolphin Think Tank, was concerned overnthe fact that Alibaba had been found guilty of serious abuses, meaning it would be more likely to yield in future regulatory disputes over tax and counterfeit goods. "Whereas Alibaba used to have a strong, assertive stance with regulators, now it will be on the back foot," Li said.
The fine likely won't be the last handed down by anti-trust regulators to one of China's dominant tech behemoths: Tencent, whose stock is still reeling from the Archegos blowup, has also been targeted for an anti-trust 'review'.
The crackdown, which burst into public view last October after the CCP scuttled the IPO/spinoff of BABA's Ant Group, a financial group focused on providing payments and loan services to the Chinese population via smartphone apps. Ant is now facing restrictive new regulations that analysts say will hamstring its growth.
Investors will be watching to see how the fine impacts BABA's shares, which have been struggling in recent months as the anti-trust crackdown and broader pressures facing Chinese stocks weighed on demand.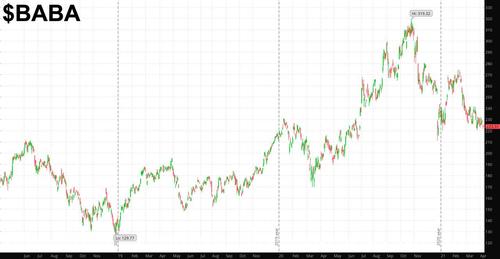 While some analysts dared to suggest that the "worst is over" for Alibaba, others pointed out that China's shifting regulatory framework would likely help empower Alibaba competitors like Pinduoduo, an upstart online retailer that overtook Alibaba's annual shopper count last year, with 788 million people buying on its platform, vs. 779 million for Alibaba.
Disclaimer: Copyright ©2009-2021 ZeroHedge.com/ABC Media, LTD; All Rights Reserved. Zero Hedge is intended for Mature Audiences. Familiarize yourself with our legal and use policies every time ...
more