Air France ADR Is Top Strong Buy
AIR FRANCE-KLM (AFLYY) is an airline company. The Company's core business is passenger transport, cargo transport, and aircraft maintenance services. The Group is the world leader in terms of international passenger traffic; and its cargo activity (not including integrators) and is one of the world's major maintenance service providers. The Group structure is simple: a holding company with two airline subsidiaries. Air France-KLM has established a set of clearly defined commitments to ensure that its strategy of profitable growth goes hand in hand with environmental quality and social progress.

Our models continue to be impressed by the airline industry. Despite some bad press recently for US carriers like United, Delta, and Chicago, we have featured many major carriers in our bulletins over the past few months.

Today, when we query our systems for the top STRONG BUY stocks right now, Air France-KLM ADR comes out on top on the basis of its strong one-year forecast return figures. This foreign carrier features a decent P/E ratio and its brand is rated highly by international travelers. However, be aware that foreign carriers may be increasingly at a disadvantage in the US thanks to the Trump administration's newly proposed rules vis-a-vis electronic devices and cabin transportation.

Below is today's data on Air France-KLM (AFLYY):

ValuEngine continues its STRONG BUY recommendation on AIR FRANCE-ADR for 2017-06-09. Based on the information we have gathered and our resulting research, we feel that AIR FRANCE-ADR has the probability to OUTPERFORM average market performance for the next year. The company exhibits ATTRACTIVE P/E Ratio and Price Sales Ratio.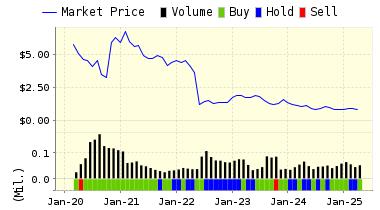 ValuEngine Forecast

Target
Price*

Expected
Return

1-Month

12.64
1.43%

3-Month

12.83
2.99%

6-Month

13.53
8.59%

1-Year

14.60
17.16%

2-Year

16.76
34.53%

3-Year

18.68
49.94%