Aggressive Traders Could Double Their Money On LEVI With This Trade
Analysts seem to agree there is more upside in the stock, with three strong buy ratings and seven buy recommendations. After the earnings beat, two firms upgraded the price target on Levi Strauss to $34 from $29 while another raised their price target to $29 from $25.
The chart below shows the strong breakout above the $26 level with the recent peak from last week tapping $27.73. Given the strong outlook for 2021 and the current momentum, shares could be headed above the $30 level by the summer. Near-term and rising support is at $26–$25.50 if shares pull back from current levels. The relative strength index (RSI) is showing the stock is slightly overbought at current levels with a reading north of 75 and when shares typically consolidate.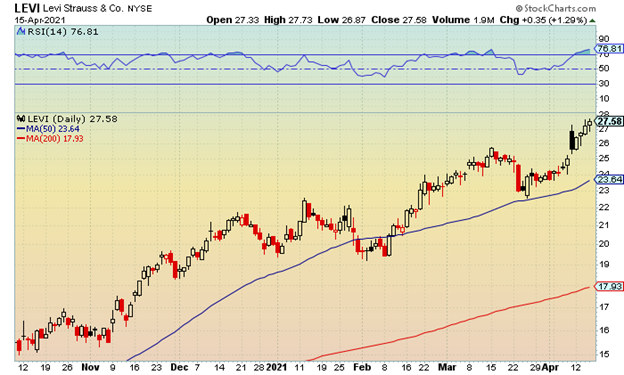 Conservative traders can target a great buying opportunity on any pullback into the mid-$ '20s with the possibility of writing covered calls throughout the year to lower the cost basis.
Aggressive traders can target the LEVI July 30 call options, which are currently trading near $1.00. If shares can trade to the $32 level by mid-July, these options would double from current levels as they would be $2 in the money.
Disclaimer: Information contained in this email and websites maintained by Investors Alley Corp. ("Investors Alley") are provided for educational purposes only and are neither an offer ...
more