After Yesterday's Announcement Of An Agreement, Biolase Has Made A Spectacular Climb
Biolase Inc. (BIOL), an American Nasdaq-listed medical device company that manufactures and markets proprietary dental laser devices which enable dentists to perform a wide range of procedures, ranging from surgical and restorative operations to the simple and non-invasive.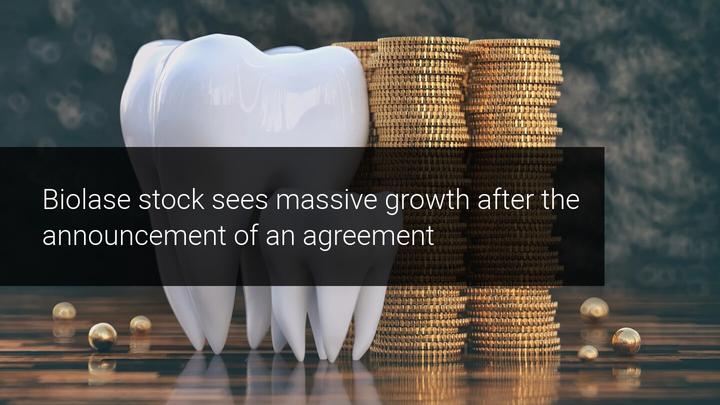 Yesterday, Biolase announced that it has reached an agreement with DSO Dental Care Alliance to extend the use and management of its lasers in dental offices in the United States.
DSO Dental Care is one of the most important dentist organizations in the United States, with a presence in more than 20 states. It is expected that this agreement will significantly increase Biolase sales, which, up to now, has sold more than 41,200 dental laser systems in more than 80 countries around the world.
After the announcement of this important agreement, the price of this company experienced a spectacular rise of more than 80% during the trading day, exceeding 1.10 dollars per share, with a close at around a dollar per share, easily overcoming its previous resistance levels at 0.66, 0.80 and 0.93 dollars per share.
Technically speaking, after this strong rise, the price is very far from its moving averages with its stochastic indicator approaching its overbought zone, so it would not be ruled out that the price could make some correction in the form of taking profits in the next sessions, although the signing of this agreement gives impetus to this action, since in the coming weeks the triple crossing of moving averages can be completed with the upward crossing of its medium-term moving average in orange to the moving average of 200 sessions in red.
(Click on image to enlarge)
Source: Admiral Markets MetaTrader 5. Biolase daily chart. Data range: from September 12, 2019 to January 13, 2021. Prepared on January 13, 2021 at 10:30 am CET. Keep in mind that past returns do not guarantee future returns.
BIOL performance over the last five years:
2020: -24.60%
2019: -44.17%
Disclaimer: The given data provides additional information regarding all analysis, estimates, prognosis, forecasts or other similar assessments or information (hereinafter "Analysis") ...
more