ADMA Biologics: Almost Ready To Run Between The Toes Of Giants
Figure 11.3: Along with the industry-wide barriers mentioned above, AMDA's business will have several unique barriers
1. The regulatory regime, is a significant barrier to entry
The structure of the regulatory regime covering the development, production and commercialization of plasma treatments will be a major deterrent for potential competitors. In addition, ADMA's products are protected by intellectual property rights and trade secrecy laws.
2. ADMA has patents and trade secrecy protections
The criteria and methodologies that ADMA uses to select its plasma donors, formulate its plasma pools, and validate its micro-neutralization assays (for anti-RSV antibody detection in human plasma and in the final product) are patented. ADMA's collection of patents and trade secrets cover unique and exclusive reagents, controls, reference standards and methods used in the assay process.
3. Significant investment would be required to replicate ADMA's specially designed hyper-immune facility
The Boca facility is operated to a high degree of technical complexity, and almost all aspects of the fractionation process are validated by the FDA. The construction of a new fractionation facility will require significant investment.
4. ADMA has built up considerable technical and scientific know-how while developing RI-002
To commercialize a competing therapy, competitors will need to invest substantial resources in developing the required technical and scientific know-how, before undertaking a long development program. The FDA requires that all new IgG products are developed as first in class treatments. This protects existing therapies from generic competition (which can reduce average sales prices by up to 90% in the wider pharmaceutical sector).
12. ADMA's management team have surrounded themselves with experienced industry executives
ADMA was originally founded in 2004 by Adam Grossman and his father Dr. Jerrold Grossman. The father and son team obtained their experience of the plasma industry with companies such as Genesis BioPharmaceuticals, National Hospital Specialities and Medimmune. The CEO Mr. Adam Grossman was a sales and business development executive at Medimmune during the commercialization of Synagis. Now that RI-002 has passed through a protracted (and costly) development process, management are more motivated than ever to succeed in their goals. To oversee operations at the newly acquired facility Mr. Grossman has relocated with his family to Boca Raton, Florida. In addition, ADMA's Board of Directors includes leading experts from the fields of healthcare investing, venture capital, and the plasma industry (collectively, management and the board of directors have over 150 years of substantial medical, technical and development experience across the industry).The board includes Mr. Laurence Guiheen, the COO of Kedrion (and formerly a president of Baxter BioSciences), who has experience in plasma fractionation and has served on board of the PPTA. The board also includes, Dr. Bernard Ehmer the CEO of Biotest AG, who currently sits on the global Board of Directors of the PPTA.
13. RI-022 can reach over $200m in revenues within five years of market entry.
Market model assumptions
A peak market penetration rate among PIDD patients of 33%.
Average patient weight of 46kg (taking account of average adult and infant weights).
Average cost price of $450 per gram, at a dosage volume of 27g per dose, with average cost price inflation of 2.3% over the period.
Figure 13.1: With a peak penetration rate of 33% in the PIDD patient segment, RI-002 can generate over $50m in revenues within five years of market entry


Source: Analyst Estimates
Important points to note, in relation to average dosage volumes, are that most patients require minor differences in total dosage volumes depending on each patient's immune physiological differences and comorbidities. The AAAAI guidelines recommend that patients with PIDD are treated every three to four weeks with doses ranging between 400 mg/kg to 600 mg/kg. Currently there is no defined optimal dose for IG replacement therapy even though the treatment has been in use for more than 50 years. The model projects that within five years of market entry, RI-002 can be treating c. 2,000 PIDD patients per year (generating between $80m and $90m in revenues). As discussed above patients undergoing solid organ transplant operations (SOT's) can benefit from treatment with RI-002. The table below (figure 23.2) outlines future projections based on historical data obtained from the Organ Procurement and Transplant Network. While these figures could fluctuate somewhat, the projected yearly total figures provide a reasonable guide for this model. The model projects total future transplant numbers for each of the relevant transplant sub-groups, based on historical 10-year average growth or decline rates for each sub group.
Figure 13.2: Collectively, the four transplant groups that can benefit from RI-002 use are projected to grow by approximately 2.6% y-o-y

Source: Analyst Estimates
Figure 13.3: The SOT revenue model uses conservative penetration estimates to account for the lack of detailed patient data.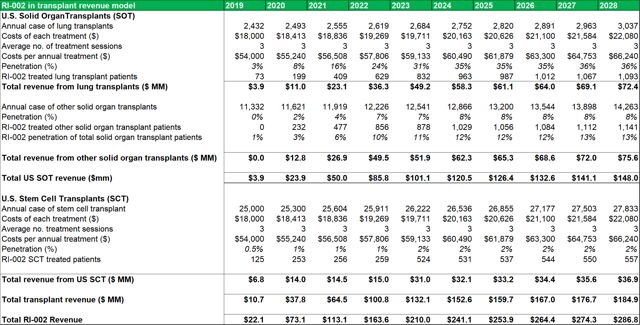 Source: Analyst Estimates
Among the transplant subgroups, patients undergoing a lung transplant (who contract RSV and/or are at a heightened risk of contracting RSV due to IC status) might benefit the most from RI-002 treatment. As such, the model assumes a peak penetration rate of 33%, with a penetration rate of 31% being reached within five years. A more conservative rate of 12%-13% is modelled for other SOT's. As discussed above, patients who become immune compromised while undergoing stem cell transplants, can benefit from RI-002 use (to counteract/prevent RSV infection). To account for the difficulty in estimating potential incidence rates in this subgroup, a very conservative 2% peak penetration rate is used.
Figure 13.4: Post transaction ADMA can generate a blended gross profit margin of c.60% and a blended operating margin of c.45%.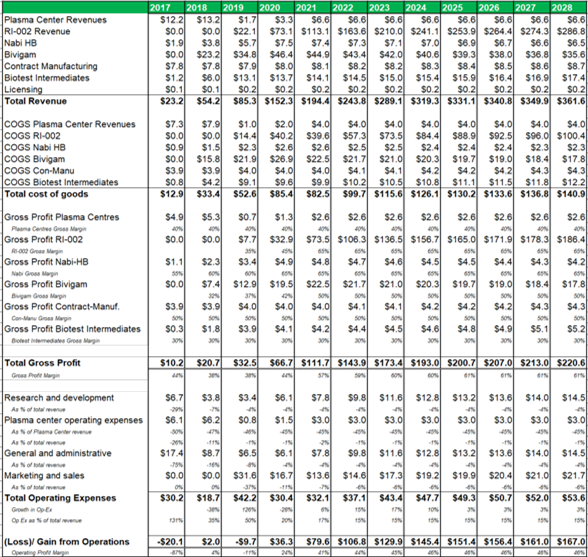 Source: Analyst Estimates
The margin analysis model (figure 23.4) uses management guidance for top-line and bottom-line margins and projects COGS, gross profit and operating expense margins for each business segment. The plasma collection centers are projected to generate a 40% gross margin, while RI-002 (now fractionated from ADMA's wholly owned fractionation facility) can generate a gross margin of 65% after five years of revenues. Marketing and sales is projected to account for 6% of revenues, research and development is projected to account for 4% of revenues, while general and administrative expenses are expected to account for 4% of total revenues (all after five years of RI-002 revenues).
Figure 13.5: A risk-adjusted net present valuation model yields a fair value of $15.17 for ADMA shares.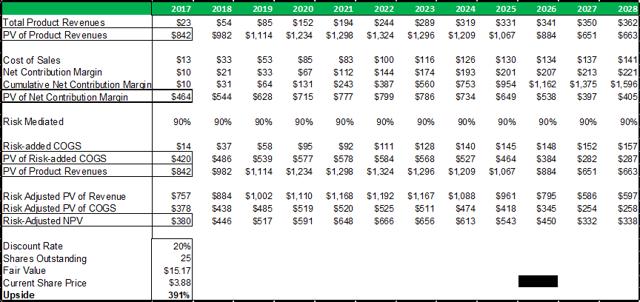 Source: Analyst Estimates
Taking the present value of ADMA's total projected product revenues (from all business segments), along with the present value of all projected COGS expenses (from all business segments), and risk adjusting both for a 90% percentage of success (POS), a total risk adjusted net present value of $380m is reached. The 90% POS adjustment takes account of RI-002's stage of development, and the high likelihood that the Boca facility will pass a cGMP re-inspection and the BLA for RI-002 can be refiled.
Figure 13.6: A P/E valuation model applying a 12x P/E multiple to2020E EPS and 2021E EPS, yields a fair value of $16.35 for ADMA shares.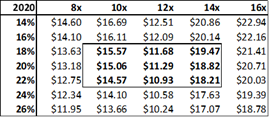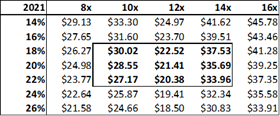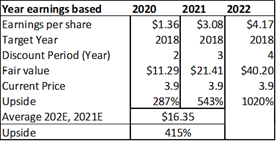 Source: Analyst Estimates
The P/E valuation model uses a blended fair value based on 2020E EPS and 2021E EPS to account for RI-002's strong EPS growth over the period (2020E to 2021E projected top-line revenue growth is 28% versus EPS growth for the same period of 128%). A 12x P/E multiple is a conservative valuation multiple for ADMA, considering its potential to achieve niche positioning. ADMA's peers in the plasma industry have conglomerate business models and global operations, and therefore attract premium P/E multiples in the range of 20x to 30x. While ADMA's will be a member of this peer group it won't be competing directly against these companies. Emergent BioSolutions (Ticker: EBS US Equity), a publicly listed Canadian company that specializes in vaccines for rare diseases and infections, is perhaps a more directly comparable company (for valuation purposes). Like ADMA, this company has a niche market focus in a highly technical industry. This company's unique competitive positioning creates a substantial moat around its business. As a result, its shares attract a premium valuation, currently trading at a P/E of 28x, and a P/S of 4x. The company has a market capitalization of $2.4bn, and generated EBITDA of $136.9m and EBIT of $98.6m for FY 2017. When ADMA has built up a strong revenue base from RI-002 sales, it could attract a premium valuation, and its shares could trade with a P/E multiple in the range of 20x to 25x.
Figure 13.7: A technology valuation model comprised of 10 randomly selected biotechnology companies demonstrates the overly-severe valuation discount currently placed on ADMA's patented technology

Source: Analyst Estimates
The model above, selects a random group of ten publicly traded biotechnology companies that have at least three assets in development (some have assets that have received regulatory approval). The model subtracts the cash and debts values from the market capitalizations to derive the implied technology values for each company. The group average technology value is added to ADMA's current market capitalization to derive a fair value for ADMA's technology of $14.70. When considering the strength of this valuation estimate it is important to remember that the stock market often misprices biotechnology assets.
In summary, an average of the rNPV fair value of $15.17 and the blended 12x P/E fair value of $16.35, yields a fair value for ADMA shares of $15.76. Applying risk adjusted fair value valuation methodologies for ADMA's near-term future potential earnings, is perhaps the best approach for deriving a fair value for ADMA's shares given the unique situation the company has found itself in. ADMA is a very attractive investment from a value perspective as the shares present a very favorable margin of safety. ADMA's current enterprise value of $185.7m, is considerably less than the fair value NPV of the Boca facility (in and of itself, w/ no working capital or inventory balances).
14. ADMA's shares offer a unique opportunity for the long term investor.
Summary of the investment case
ADMA's lead product candidate has generated very positive clinical data, and is positioned to meet a very high unmet medical need. ADMA has received a CRL that didn't cite issues with the drugs clinical profile. The scientific profile of IVIG treatments in immune compromised patients is very developed, and RI-002's completed clinical program is more than sufficient to obtain approval.
ADMA has acquired a specialized hyper-immune fractionation facility, without having to expend high upfront capital investment costs or pass a burdensome approval timeline. ADMA will be the first company in the plasma industry to fractionate a high-value hyper-immune from a 400,000L facility. This gives the company a niche position within the highly entrenched plasma industry and can allow it to achieve ' premium-product' profit margins, while being protected with a significant business moat.
The burden of lifting the regulatory hold at the Boca facility is much lower than might be perceived by investors at present. The regulatory landscape pertaining to fractionation facilities is very well defined by the various regulatory bodies and ADMA has obtained the services of an experienced consulting firm.
Summary of the investment risks
Management could be underestimating the need for additional capital investment at the Boca facility. Management have guided that the facility is in very good condition, and that the $50m capital investment estimate by BTBU likely underestimates the total amount invested. The CRL did not cite the need for the facility to be physically upgraded but instead focused on processes and employee training and skills.
Managing the Boca facility will be a challenging task for ADMA's management. Although, AMDA's executives have significant experience in the plasma industry, they have relatively little direct experience in managing a fractionation facility. In addition, it will take several years before capacity can be fully scaled and a large number of additional employees will need to be hired. Also, AMDA intends to commercialize RI-002 without engaging third parties. There is a risk that management are underestimating the operationally burdensome nature of operating a large fractionation facility and simultaneously commercializing a new product candidate.
Management have guided that its current liquidity and cash resources will be sufficient to see the company into the second half of 2018, when its revenues should increase considerably. If AMDA was to fail the FDA re-inspection, timelines for its major business objectives will be pushed back into the future. This would place significant strain on the company's balance sheet. As additional capital would be required, significant dilution for current shareholders could result.
To operate the facility efficiently, ADMA will need a steady supply of high quality plasma. Two of its existing collection centers will transfer to Biotest at year-end 2019 and a third center has only recently been established. Although additional supply agreements are already in place, ADMA's supply partner could experience business disruptions in its supply chain which could deprive ADMA of timely supplies of raw plasma. Although the state of Florida is a hub for the plasma industry in the South-Eastern United States, and all of the main plasma processors maintain at least four centers in the state, these companies could decline to supply ADMA in the event of supply shortages in the industry.
ADMA's shares offer a unique opportunity for long-term investors. It is very rare for highly specialized plasma facilities to come onto the market and ADMA has been afforded a unique opportunity to acquire a very valuable asset. When viewed in the wider context of very richly valued asset markets, it is extraordinary that ADMA's key asset is trading well below replacement value. ADMA is pursuing important business objectives, which have the potential impact to impact patient outcomes. It will be first company in the industry to manufacture a polyclonal plasma derived hyper immune. Serum antibodies recovered from convalescent patients have been in use in the medical field since the 1900's (origins of immunotherapy). Although the technology's in use in the industry have greatly increased efficiency, the end market need for the plasma derivatives has continued to grow unabated. For investors with one eye on the business cycle, it is important to remember that the plasma industry was not overly affected by the 2008 GFC.
INCOME STATEMENT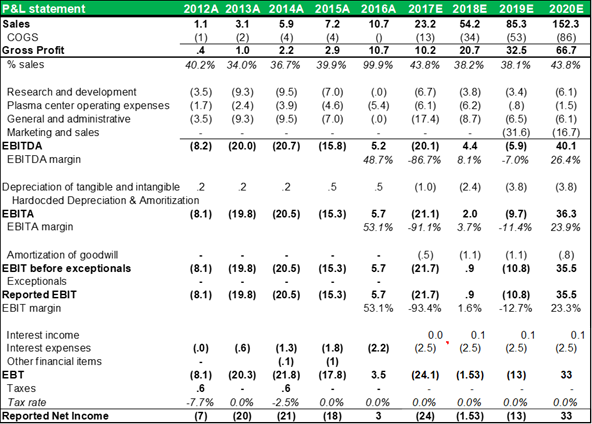 CASHFLOW STATEMENT

BALANCE SHEET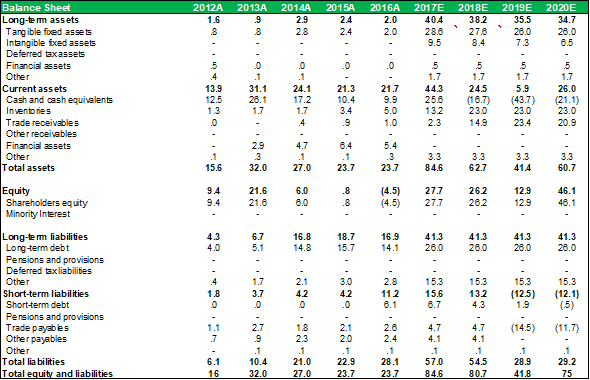 Important: Disclaimer
No aspect of this research piece is intended to be relied on as investment advice. The content is intended to be used and must be used for informational purposes only. It is very important to do your own analysis before making any investment based on your own personal circumstances. You should take independent financial advice from a professional in connection with, or independently research and verify, any information that you have read in this report and wish to rely upon, whether for the purpose of making an investment decision or otherwise.
Appendix
1.1 Comparable's tables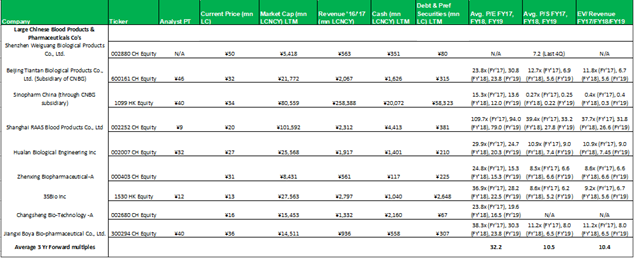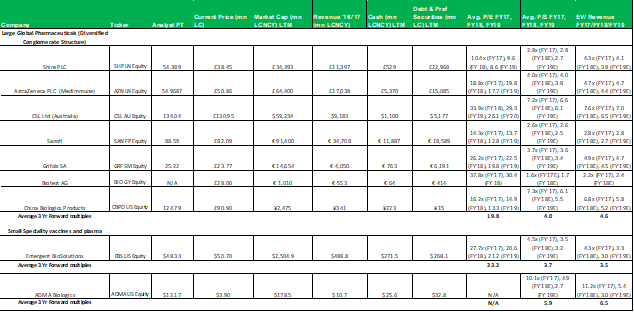 No aspect of this research piece is intended to be relied on as investment advice. The content is intended to be used and must be used for informational purposes only. It is very important to do your ...
more