ADMA Biologics: Almost Ready To Run Between The Toes Of Giants
ADMA has been working closely with BTBU management since the issuance of the CRL in July 2016. This has allowed ADMA to develop a strong understanding of the issues involved. As part of this cooperation period, members of ADMA management along with its Board of Director's toured the Boca Raton facility. This process lead onto the purchase agreement that concluded with BTBU. New staff, new employees, new standard operating procedures (SOP's), new training programs and a comprehensive compliance enhancement program should place the facility in a position to pass a re-inspection. Management has outlined that this program will involve overhauling 16 different quality management systems. Consultants from Validation will provide an Interim Control Plan and act as a third party internal quality oversight function for all production activities. The small team of consultants working at the facility are experts in their field and their fees for Q2 2017 were $2m. ADMA's management has guided that the facility will require minimal additional capital investment. The CRL that ADMA has for RI-002, sets out in detail the various aspects that caused the facility to fail the compliance checks, and the remediation efforts can be focusing on these issues. This is key to removing the valuation overhang on ADMA's share price. At present, the market is unwilling to ascribe any 'benefit of the doubt' valuation on the shares.
Figure 6.1: Over time Investors are hoping that the business climate at the facility will match the local Florida climate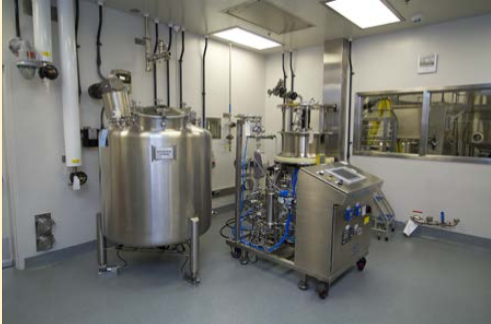 Source: ADMA Biologics
7. ADMA's supply of source plasma is secured from its three existing centers and through the supply agreement with Biotest
Figure 7.1: ADMABiocenters employ c.50 employees and can cater for 50 donors at any one time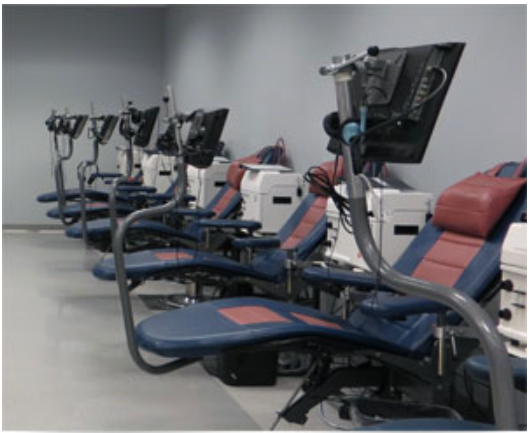 Source: ADMA Biologics
ADMA currently has two fully-operational collection centers in Marietta and Norcross (in the State of Georgia), and a third center is due to begin collection activities in January 2018 (in Kennesaw, Georgia). On average it takes one year to obtain FDA approval for a new center, and another operating year to build up a stable donor base. After establishing a stable donor base, it usually takes between two-to-three years before the center has integrated into the local community and a sufficient supply of plasma can be collected to justify the build. The centers advertise in the local community and engage in initiatives designed to increase visibility among the local population. The three centers are c.10,000 sq. feet in size and cost between $2m and $3m to develop. Each center will employ c.50 people and will have peak capacity for 50 donation stations.
Figure 7.3: ADMA's collection centers are worth c.$16m each and can generate a stable revenue stream of c.$6.5m


Source: ADMA Biologics
The BTBU transaction agreement allocated a value of approximately $6.3m for each center. A 2.5x sales multiple is a fair valuation metric for the centers, and a well-run center could be expected to generate approximately $6.5m. While ADMA has agreed to transfer two centers to Biotest AG in 2019, it can benefit from the use of these centers until YE 2019. Importantly, the transaction agreement included a long-term supply agreement with Biotest AG or its successors, which will guarantee ADMA's supply needs.
Figure 7.4: Post transaction ADMA's centers will be c.9 hours by road from the Boca Raton facility. The facility itself is a 12min walk to CSL's Plasma Global headquarters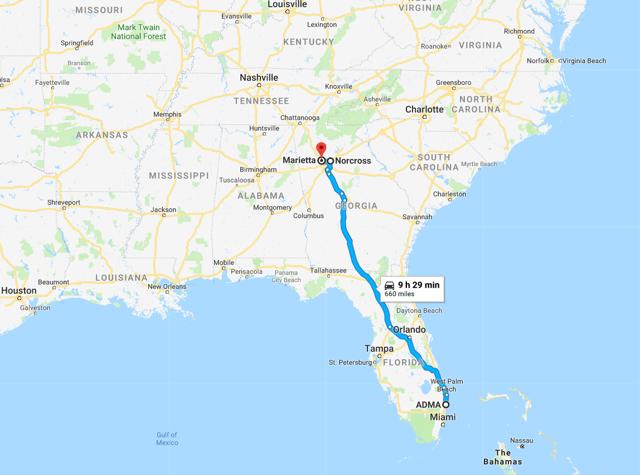 Source: Google Maps
Securing the supply of raw plasma is a key strategic consideration for the large processors. The ability to increase capacity depends in part on the ability of the processor to increase its collection volumes. Developing economies of scale in plasma collection is easier than in plasma fractionation, which requires a higher capital outlay to build new or additional capacity. Historically plasma collection has contributed a greater amount to the overall cost of goods sold, as donor fees are the highest cost in the overall cost base. For the average collection and fractionation operation, collection costs can represent c.50% of the total cost of goods. On a per liter breakdown of cost of goods, the large fractionators are able to achieve a split of c. 30% to 40% for fractionation and c. 60% to 70% for plasma collection.
8. Grifols SA, CSL Ltd and Shire Plc dominate the US plasma collection industry
The number of companies active in the plasma industry has fallen from thirteen companies in 1990 to just six companies at present, while the overall market value size has increased significantly. The total amount of plasma collections has increased from 15.3m in 2007, to 38.3m in 2016, a CAGR of 10.7%. Industry growth is being driven by increasing demand from emerging markets and clinical data which has supported the use of plasma derivatives for additional medical indications. As a small player in a niche segment of a fast-growing market, ADMA has found itself with 'a seat at the table' of a very attractive industry.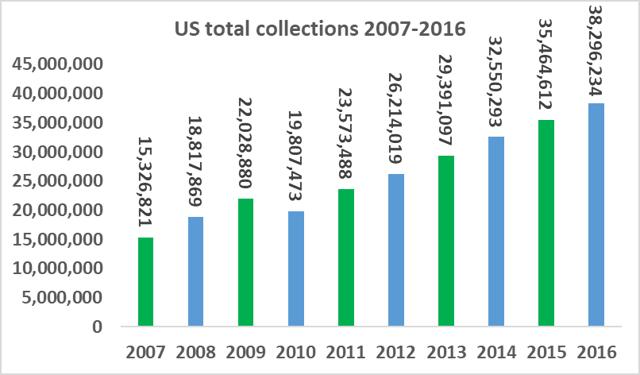 Source: PPTA
This increase in collection capacity allowed for significant growth in the total market value for IVIG, the most valuable plasma derivative. The overall increase in market value was primarily driven by a gradual increase in the price of IVIG. This was driven by the recognition among the medical community that IVIG could be used to treat a broader range of conditions (particularly neurological conditions).
8.1: Average prices for IG rose even as the large players expanded capacity. This dynamic produced significant overall growth in market value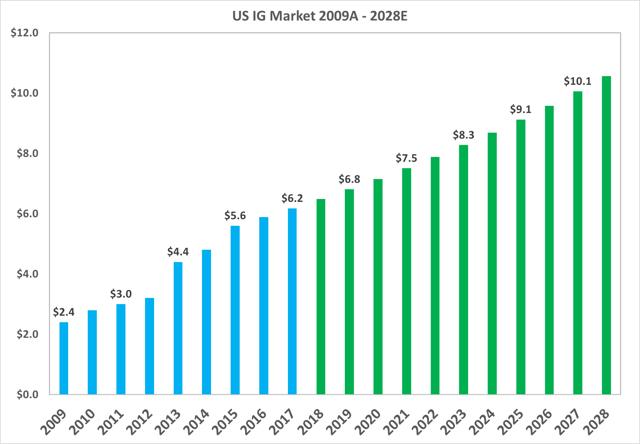 Source: MRB Research, LEK Consulting, Aetna, United Health
The total market value of the North American market grew from $2.4bn in 2009 to $6.2bn in 2017, or a CAGR of 12.2%. The market is projected to continue growing at a CAGR of 5% up to 2028.
8.2. The plasma collection industry is dominated by the three large processors who hold more than 75% market share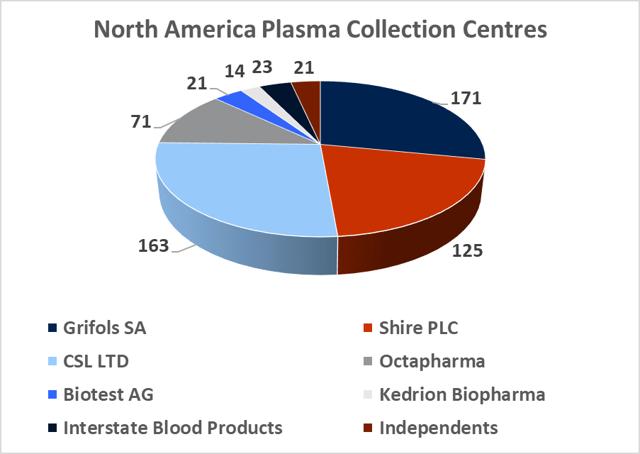 Source: DonatingPlasma.org
At year-end 2017, there was c.670 regulated and fully operational plasma collection centers in the western hemisphere, with 609 located in North America and 57 located in Europe. The total North American plasma collection network grew at a CAGR of 10% between 2012 and 2016 and this growth rate is likely to continue in the coming years (in light of company guidance). The global market leadership position has changed hands several times between Grifols SA and CSL Ltd over the last decade. This depended largely on which company had recently made a large acquisition and thus was able to expand its total processing capacity. In 2017, Grifols SA led the industry with 171 centers, CSL Ltd had 163 centers, Shire Plc (though its $32bn acquisition of Baxalta in 2016) has 125 centers, and Octapharma AG (Private) has 71 collection centers. CSL Ltd has focused on developing its own centers under the CSL Plasma brand, while Grifols SA has pursued a dual expansion strategy, building out new greenfield sites and engaging in transactions with smaller independent collectors. It purchased 49% of Interstate Blood products for $100m in May, 2016 (deal included 9 collection centers), and paid $49m for 6 plasma centers from Kedplasma in February 2017. CSL's global plasma collection operations are concentrated in North America although the company has recently commenced efforts towards building a processing presence in China (purchasing the Rui De plasma business in Wuhan Province for $352m in 2017). The large collectors aim to create clusters of collection centers in the regions where they establish operations with the aim of creating collection efficiency. The two main challenges involved in building out large donor networks (absent the clear regulatory and development burdens) are increasing the donor base and recruiting qualified staff.
8.3: The large plasma processors forced the industry to consolidate by buying up smaller independent networks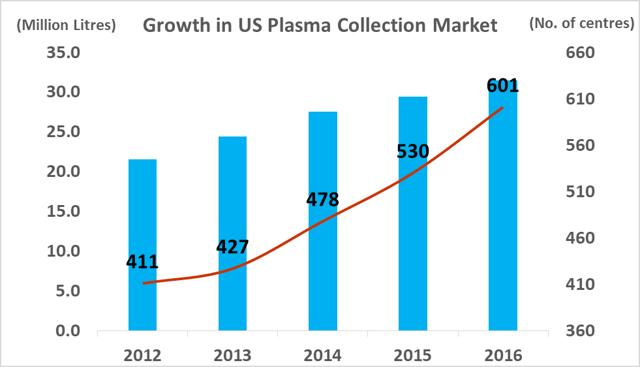 Source: PPTA, DonatingPlasma.org
The structure of the global plasma industry has been crafted through several large transactions, which allowed the purchasers to generate significant economies of scale and achieve substantial processing efficiencies.
In 2000, c.50% of the North American plasma collection market was independently owned, but by 2010 c.80% of the market was held by the three largest companies.
The three dominant companies have conglomerate style organizational structures, which allow them to pursue complimentary business lines in areas such as vaccines, rare diseases and small molecule drug development. Shire achieved significant scale in 2016 through a $32bn purchase of Baxalta (spun off from Baxter Pharmaceuticals in 2015). Baxter had previously sold its fractionation assets to NPS Biotherapeutics (JV by Cerberus Capital Management and Ampersand Ventures). Subsequently Shire Plc has lost the pole position to Grifols and CSL. CSL Ltd began life as a supplier of vaccines in Australia before privatizing and pursing international expansion. In 2003 the company purchased Aventis Behring for $925m and integrated that company's European manufacturing plants into its own operations. Grifols purchased Talecris Biotherapeutics (spun off from Bayer's processing facilities in North Carolina) for $3.4bn in 2010 (acquiring Gamunex, a treatment for three immune-system disorders, and Prolastin, the top-selling treatment for Alpha-1 antitrypsin deficiency, which accounted for 77% of Talecris sales). Grifols SA integrated Talecris' substantial North American collection center network into its existing European processing operations. As a result (and like CSL Ltd) it maintains its own specialized freight service to ship frozen plasma to Europe where it is processed into the plasma derivatives (both companies maintain large processing plants in Europe). Grifols SA, began life as a private blood bank in Spain, before expanding into North America and eventually buying Alpha Therapeutics (from the Japanese company Green Cross) in 2003. Biotest AG began life as a small plasma processor in Germany in the 1860's before gradually expanding into North America. Octapharma was founded in Austria in 1983 as a specialist contract fractionator and today it has significant collection capacity in North America (with 71 centers). Kedrion grew out of a family run blood and plasma business in Italy.
8.4: Grifols SA has outlined details of its long-term capital investment plan
Grifols has given guidance to the market on its planned capacity additions and total planned investment amounts. To at least maintain current relative positioning, CSL Ltd will need to pursue a similar expansion plan. An important aspect of product pricing in the plasma industry is that prices are determined by the cost base of the marginal producer. Therefore, profitability for the large fractionators is tightly linked to relative efficiency.
8.5: The larger processors can expand capacity with incremental EBITDA margin growth

Source: Analyst Estimates
Most industry participants now recognize that the incremental margin growth for all but the most efficient fractionators is close to zero at current market prices. This makes it uneconomical for the smaller fractionators to pursue market growth strategies and it means that the larger fractionators capture an outsized proportion of the year-on-year average growth produced by the industry. As a result, the combined market share of Kedrion, LFB and Biotest AG has declined in recent years, while CSL and Grifolshave increased theirs. Octapharma (private) is the only smaller processor who has been able to profitably expand its capacity. It achieved this through, 1) significant investments in its collection center network in North America (it plans to double output from 2016-2019), 2) aggressive pricing tactics, 3) aggressive expansion into North and South America (Octapharma had lost share after a product recall in 2009). Importantly, Octapharma was able to grow its margins and its top-line revenues in recent years by improving its average fractionation yields and implementing process improvements.
8.6: CSL and Grifols SA will likely increase their positions in the market by matching each other's future growth plans
CSL Ltd likely has the relative efficiency advantage in plasma fractionation at present but Grifols will be attempting to close this gap in the coming years. As part of Grifols' North American capital investment plan ($1.2bn), the company will expand its base of collection centers to 225 by 2019 (from 171 in 2017), and increase its fractionation capacity from 13.9m liters per year to 19.0m liters per year by 2022.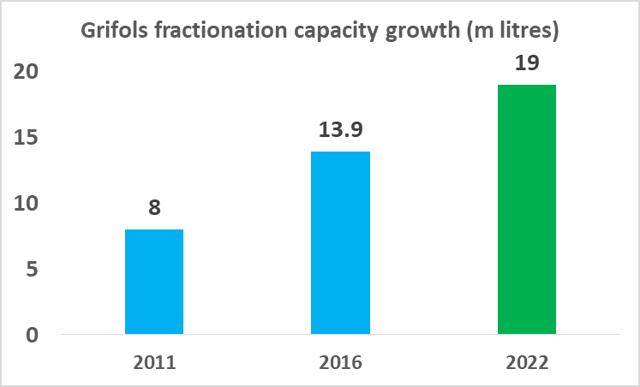 Source: Grifols SA Investor Presentation
8.7: At present, Grifols SA has a slight market share lead in the IVIG segment

Source: Grifols SA, PPTA
For the big six plasma processors, IVIG is the most profitable protein that can be extracted from each liter of plasma (prices have fluctuated between $60 and $75 per gram in recent years), while albumin is least valuable and yields about 25g per liter of plasma, and currently costs c.$2.50 per gram. The other two most profitable proteins are Alpha-1 Antitrypsin and PdFactor VIII. The economics of plasma fractionation (called last liter economics, is discussed in section 19 below) is such that the fractionator can tailor the various steps involved in its fractionation processes to enhance the yield of a given plasma batch depending on end market supply and demand conditions.
8.8: This Grifols presentation slide shows how an integrated plasma processor structures its business models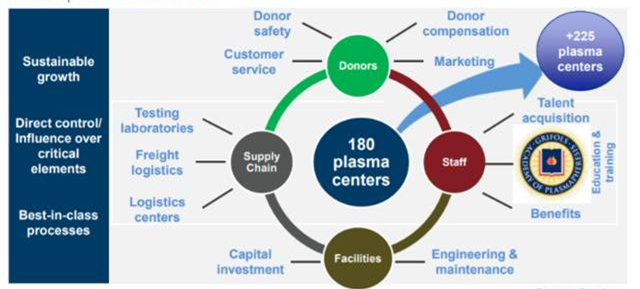 Source: Grifols SA
8.9: The State of Florida is a hub for the plasma industry in the South-Eastern United States
It would be very economically challenging for a small processor like ADMA to enter the traditional plasma market with just two collection centers. Using Grifols as the benchmark for the efficient processor (it discloses significant details on its capacity levels), it can be estimated that c.12 fully-operational collection centers are required to fractionate c.1m liters of plasma. A typical plasma center, such as those operated by ADMABioCenters, can collect c.30,000L to 50,000L of source plasma annually. This would mean that ADMA would require between 8 and 13 fully operational plasma centers to operate the Boca facility at full capacity. Taking account of this supply dynamic, along with ADMA's current financial position (cash and debt resources), investors should be expecting a slow but steady ramp-up in capacity over the next two years. The terms of the transaction agreement with BTBU, extended a pre-existing RSV plasma supply agreement between ADMA and BPC (Biotest's North American plasma subsidiary). Under this agreement, ADMA has agreed to purchase an annual minimum volume of RSV plasma from BPC. The agreement allows ADMA to supply RSV plasma from up to five ADMABiocenters, and/or to purchase additional RSV plasma from third parties.
The extended agreement is to run for an additional ten years from the close of the transaction. It also covers the supply of hyperimmune plasma to ADMA for the manufacture of Nabi-HB. The terms of the agreement binds Biotest AG and/or its successors (Biotest AG obtains ex-US rights to RI-002 and any new plasma derivatives ADMA develops).
The Boca facility should not experience difficulties in obtaining additional plasma supply agreements. The State of Florida is home to both CSL Ltd.'s global headquarters and CSL Plasma Ltd.'s North American headquarters, which are located just twelve minutes' walk from ADMA's Boca Raton fractionation facility. The state is also home to 39 plasma collection centers (6% of US collection center base) and all of the big six processors maintain at least four collection centers in the state.
8.10: Florida is home to c.40 plasma collection centers
Sources: Donatingplasam.org
9. ADMA can overcome the constraints of last liter economics
The process of fractionating plasma is governed by a set of economic relationships called 'last liter economics' (LLE). The essence of LLE is such that the total potential revenue that can be generated from each gram of protein extracted from each liter of plasma, is gradually reduced from the first liter to the last liter. This means that an economically efficient operation will be attempting to maximize throughput levels, to enhance the volume of extracted proteins (without creating any measurable pathogen contamination risk). The plasma yield is the units of protein/liter of plasma. It is important to note, that while increasing yields is the main focus of the fractionator, a high yield is not necessarily associated with a high potency in terms of the biological action of the protein.
Therefore, the fractionator must also focus on high product quality. Purification processes during the fractionation stage can reduce overall product yields, e.g., when a purification process consists of five steps with yields of 90% each, only 59% of the overall product is recovered. It is therefore of the highest importance that the design of any process incorporates the minimum number of steps, and therefore achieves the highest yield. Under the constraints of LLE, as less and less proteins are produced, each gram must carry an ever-increasing allocation of the plasma and fixed fractionation costs. Fixed costs (i.e., plasma collection) are generally larger than variable costs, which largely increase with volume. This unique cost and revenue relationship has a significant impact on underlying profitability, if the last liter is used to produce one lower value product (such as albumin). The cost structure of fractionating plasma is very different from that seen in similar industrial style manufacturing processes across the wider pharmaceutical sector. Generally, it takes an average of seven to twelve months, from collection of the raw plasma to the completion of the finished product. Working capital is demanding in the plasma derivatives industry and companies carry high inventory levels to comply with regulatory requirements. Government managed reimbursement schemes are major clients of the industry, and this leads to companies holding outsized trade receivables balances. Trade payables tend to be maintained at low levels, as companies pay donors immediately for plasma donations. Some of the large plasma fractionators maintain working capital balances between 50% to 60% of revenues. Grifols, has maintained a level closer to 40%, since it purchased Talecris.
No aspect of this research piece is intended to be relied on as investment advice. The content is intended to be used and must be used for informational purposes only. It is very important to do your ...
more