Above The 40 – The S&P 500 Rubberband Stretches Further
AT40 = 67.5% of stocks are trading above their respective 40-day moving averages (DMAs)
AT200 = 63.2% of stocks are trading above their respective 200DMAs
VIX = 9.2
Short-term Trading Call: cautiously bullish
Commentary
In my last Above the 40 I complained that market breadth was once again suffering thanks to an S&P 500 stretching upward while AT40 continued to churn below the overbought threshold of 70%. The first trading week of 2018 closed out with a subtly new wrinkle on an even more stretched rubberband.
The S&P 500 reached well above its upper-Bollinger Band (BB) and a 0.7% gain. AT40, the percentage of stocks trading above their respective 40-day moving averages (DMAs), nudged just slightly higher. However, AT40 closed at a fresh 2 1/2 month high. At 67.5%, AT40 is now within striking distance of overbought and transitioned the churn into a sloth-like uptrend. The volatility index, the VIX, was even more interesting: it scooted higher only to fade to a flat close on the day. It is hard to imagine the S&P 500 pushing even higher from here without AT40 breaking into overbought territory to support an overstretched technical condition. Moreover, with the VIX holding the line just above all-time lows, some kind of snapback of the rubberband seems imminent. The S&P 500 should only be able to stretch further in the coming week with the VIX managing a breakdown below its all-time low (at which point I would feel compelled to double down on my hedge of call options on ProShares Ultra VIX Short-Term Futures (UVXY)).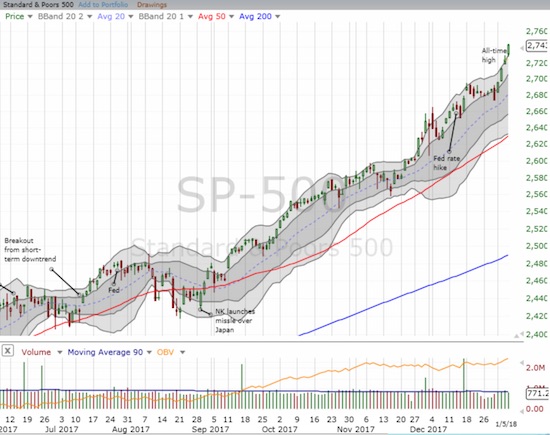 The S&P 500 surged to a fresh all-time high and stretched well above its upper-Bollinger Band (BB).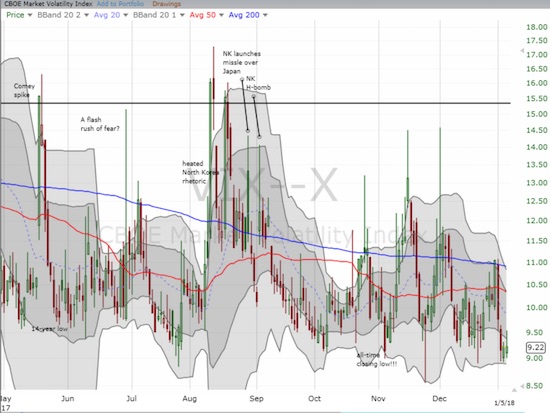 The volatility index, the VIX, held its ground just above its all-time low.
Thanks to MOST of the usual suspects, tech stocks sprinted higher similarly to the S&P 500. Apple (AAPL) has once again appeared as the important laggard; the stock faces some critical resistance. AAPL closed the week by finally filling last month's gap down on iPhone X supplier news. The move also confirmed 50DMA support. YET, the 175 to 177 range has stopped AAPL in its tracks three times before. Needless to say, I held off on making a fresh weekly AAPL call option trade (last week's trade worked out particularly well).