Above The 40 – Another Picture-Perfect Rebound Ends Stretched Conditions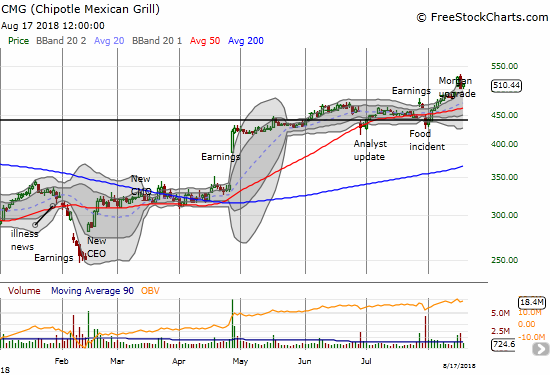 Chipotle Mexican Grill (CMG) continues to provide fireworks as a major upgrade attracts buyers and then profit-takers.
Deere & Co.
I thought this post would describe how DE's post-earnings gap down and loss this week confirmed weakness and bearishness in the industrial sector. Instead, I am writing about a potential bottom. Despite guiding down for revenue, DE gained 2.4% on extremely high volume in a move that formed a bullish engulfing pattern. This pattern marks a reversal of prior weakness. While DE faded from 50DMA resistance at its high of the day, I am fine jumping into the stock here with a stop below Friday's intraday low.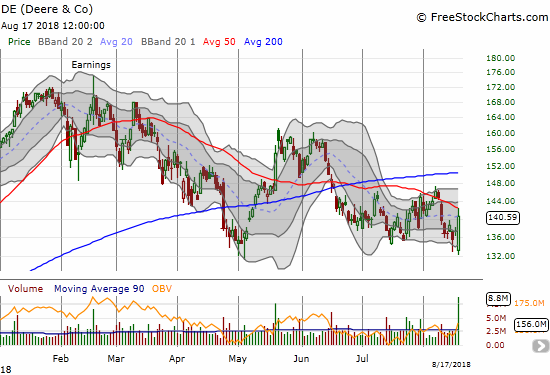 Deere & Co. (DE) attracted enough buying interest to turn a bearish gap down toward intraday 2018 lows to a bullish engulfing bottoming pattern.
J.C. Penney
Fifty-one percent (51%) of JCP's float is sold short. These persistent bears have been right for a very long time. This week the death knell for JCP came in the form of a 27.0% post-earnings loss that closed the stock at a new all-time low and the notorious "dollar and change" level. While buyers stepped in to defend the intraday low on Friday, JCP still looks like it has officially enrolled in a hospice program. I hope I will be able to jack some decent threads at the bankruptcy clearance sale. It is hard to believe just two years ago I was staring at JCP above $9 and testing 50DMA support as a potential buy.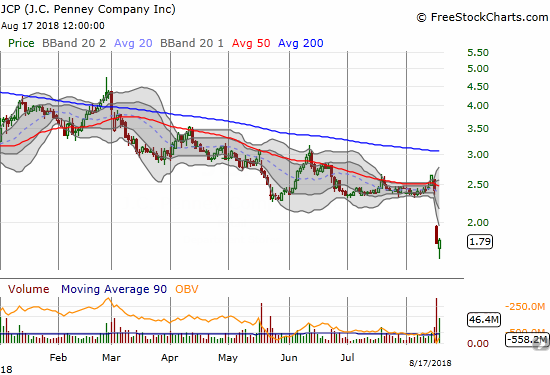 At the very edge of the abyss, J.C. Penney attracted single-digit bottom-fishers a day after earnings crushed the stock into a new all-time low.
Nordstrom
I have stayed bullish on JWN ever since it went through its own going private drama. I would like to say that the stock's post-earnings surge is a potential lesson for TSLA, but JWN reports profits…and "only" 11.9% of its float is sold short. I just wish I had a position in play to capture JWN's 13.2% post-earnings pop. I will be waiting and ready for a pullback…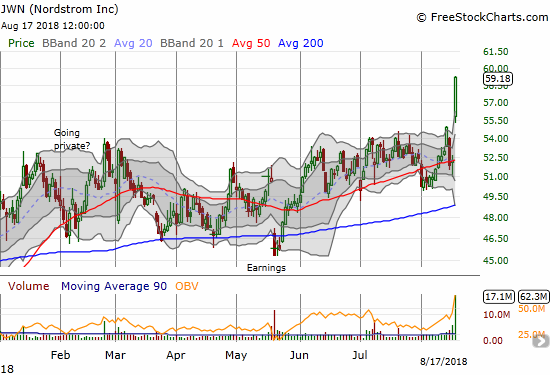 Nordstrom (JWN) surged 13% post-earnings to a 20-month high.
Teva Pharmaceutical Industries and Mylan
My stubborn patience with TEVA is paying off in the form of an extended recovery. The latest reward came in the form of an FDA approval for TEVA's epinephrine generic. The company can now compete head on with Mylan's EpiPen.
MYL actually gained fractionally despite news of the new competition for its EpiPen. Then again, the EpiPen story is now very old news for MYL; it is no longer a part of the investment or trading story. What is also old news is the bet that management was up to the task of qualifying for a bonus by driving up the stock price by March of this year. Instead, MYL's January rally was cut short by the February swoon; the stock has yet to recover. MYL is down 9.8% year-to-date.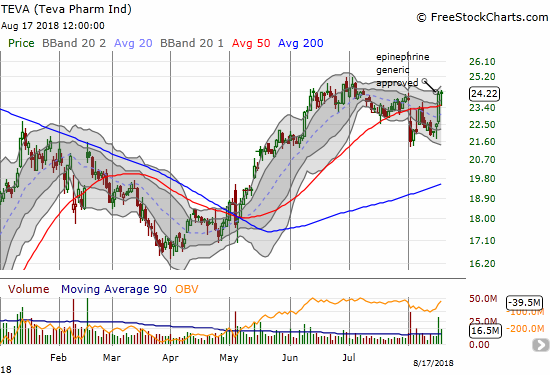 Teva Pharmaceutical Industries quickly recovered from a 50DMA breakdown thanks to the FDA's approval.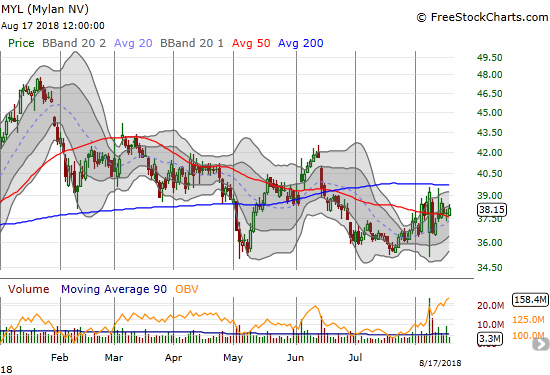 Mylan is down for the year and is struggling to go anywhere.
Overstock.com
OSTK fit the profile of a heavily shorted stock catching a bid post-earnings. On the heels of a float sold 42.8% short, OSTK gained as much as 24.3% before settling for a 7.9% post-earnings gain. However, sellers did not stop with this ugly gap and crap that took the stock all the way back to its upper-BB. The next day all of OSTK's post-earnings gains disappeared. OSTK ended this week scratching at its 2018 lows. I have OSTK on the radar.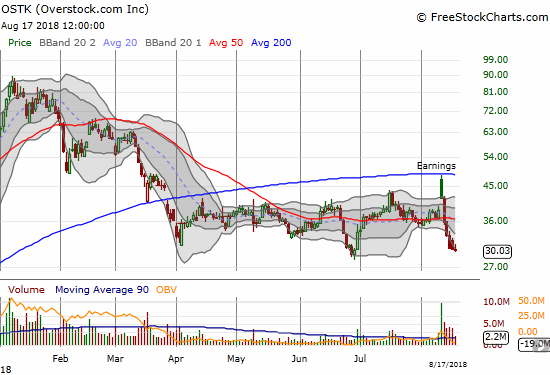 Investors had a quick change of heart in Overstock.comafter a post-earnings gap and crap turns into a tide of selling back to 2018 lows.
Pandora
A little over two months ago, I started looking for an entry point to jump into Pandora's breakout. The entry point never came except for a pullback so sharp and abrupt I would not have touched the stock if I had been paying attention. The 3-day 16.7% loss ahead of earnings looked like an ominous warning. Instead, P jumped right back after earnings. With the stock resting on top of its 50DMA, it looks tempting for a buy. There is still the issue of the float which is 24% sold short…
Disclosure: long GIS, short WBA, long CPB call spread, long AAPL calendar call spread; long TSLA shares, calls, and put spread; long TEVA, long UVXY calls, long RDFN calls, long Z ...
more