Above The 40 – Another Picture-Perfect Rebound Ends Stretched Conditions
The stock market rewarded him and his stock with a 16.2% post-earnings gain and a 50/200DMA breakout. The momentum stopped cold there until Musk tweeted his desire to take the company private at $420 using the now infamous phrase "funding secured."
Am considering taking Tesla private at $420. Funding secured.

— Elon Musk (@elonmusk) August 7, 2018
This tweet came just two days after Musk made fun of TSLA shorts with this tweet which includes a YouTube video using what is now a quite popular "voiceover" (with subtitles) of the 2004 World War II film "Downfall" using the scene of Adolf Hitler in his bunker with his military staff.
Dang, turns out even Hitler was shorting Tesla stock … https://t.co/RLM1VQ5O3K

— Elon Musk (@elonmusk) August 5, 2018
The video includes references to squeezing shorts and names big fund managers who have gone public with their bearishness. My guess is that the Securities and Exchange Commission (SEC) has taken due note.
After Musk effectively tagged a (short-term) $420 value on TSLA, the stock quickly gained another 11.0% and a brief brush with its all-time high. TSLA has been mostly downhill from there.
A lot of ink has already spilled over the latest TSLA drama, so I will just conclude here that the NY Times interview with Musk seems to mark a near climax. Musk made explicit what was implicit in his apology to analysts: he portrayed himself as over-worked, stressed out, and fraying at the edges. The timing of this piece was surprising considering Musk knew he and his company are under SEC scrutiny. The piece almost seemed contrived to garner sympathy. Regardless of the intent, the effort backfired as it put Musk's leadership in question and, more importantly, once and for all confirmed that NO funding was ever secured for Musk's $420 going private deal. The market greeted Musk's virtual plea for mercy with another 8.9% in losses that nearly completed a full reversal of TSLA's post-earnings gains.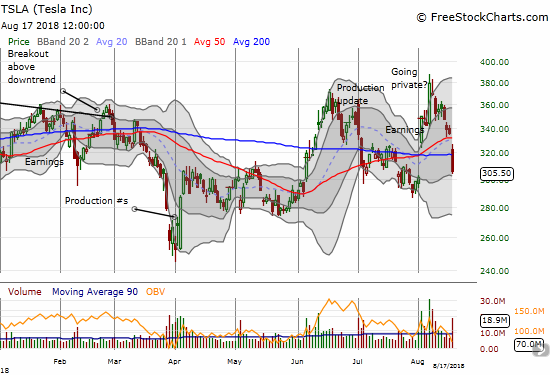 Sellers are secured in their advantage as they press Tesla (TSLA) into a near post-earnings roundtrip. Today's 8.9% loss created a 50 and 200DMA breakdown.
This is a bizarre saga for a stock and CEO that has generally curried a lot of favor and benefit of the doubt from a substantial fan base. Ironically, with a $420 going private billboard, TSLA looks like a lot of free money at this point. I have to assume that the current discount indicates significant doubt in the viability of TSLA going private or at least not for anywhere close to $420. The volatility presents bullish and bearish trading opportunities in a situation that is nearing a $420 or bust scenario.
Last week's trading defied my imagination, and I found myself racing to keep up with the market's growing bearishness on TSLA. I ended the week with shares, puts, and calls as I scrambled to figure out a palatable positioning for "$420 or bust." I am currently biased long under the assumption that a reversal of post-earnings gains may have stretched the firepower of sellers. I will go back to scrambling if TSLA's losses continue from here in trading this week. Stay tuned!
The Cheesecake Factory
A high short interest did not help CAKE after its latest earnings report. With 30% of its float sold short, CAKE imploded post-earnings to a 200DMA breakdown and a 12.4% one-day loss. Fortunately for CAKE, sellers have yet to make progress from that day's disaster. Now, CAKE is quietly creeping higher in a post-earnings recovery. CAKE closed the week above its 200DMA. This breakout and post-earnings high puts 50DMA resistance in play for a swing trade. Assuming the breakout holds on Monday, I will be looking to position myself for more upside.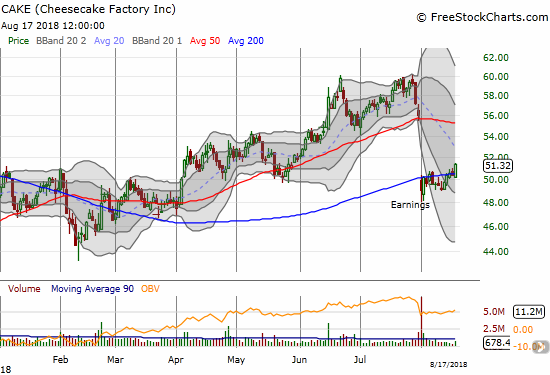 The Cheesecake Factory (CAKE) is quietly trying to make a post-earnings recovery with a close above its 200DMA.
Chipotle Mexican Grill
I thought CMG would provide a new entry point to buy into its fresh post-earnings strength. Morgan Stanley had other ideas. An upgrade sent the stock soaring this week to a fresh 2 1/2 year high. While sellers nearly reversed those gains the next day, I held off buying into the dip. The stock seems very stretched up here, so I am in no rush to jump aboard with a new swing trade: I am having trouble envisioning enough upside from here to make the risk of going long worthwhile. I will keep watching for now.
Disclosure: long GIS, short WBA, long CPB call spread, long AAPL calendar call spread; long TSLA shares, calls, and put spread; long TEVA, long UVXY calls, long RDFN calls, long Z ...
more