Above The 40 – Another Picture-Perfect Rebound Ends Stretched Conditions
The recovery from the February swoon has been full of nearly predictable bounces: whether it was oversold trading conditions or support at the 50 and 200-day moving averages (DMAs). Such moves are the hallmarks of a bull market. At some point these bounces will not work. Last week was not that week. The 2800 level has become the latest fashionable support for the S&P 500 (SPY). I used this support level along with an AT40 (T2108) that was trading at recent lows to guess that the market was once again over-stretched to the downside.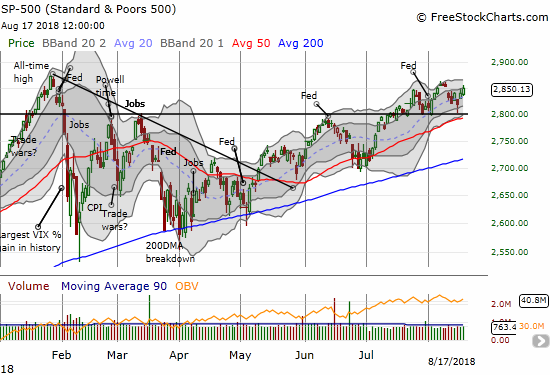 The S&P 500 punched its way to a high for the week and into last week's gap down.
The S&P 500 closed the week strong enough to push into the previous week's gap down. A fill of that gap will be a very bullish event because it will invalidate a bearish topping pattern as well as push the index to a long overdue new all-time high.
In a rare show of underperformance, the tech-laden Nasdaq and the Invesco QQQ Trust (QQQ) lagged the S&P 500 a bit by finishing the week struggling to stay aloft from their own consistent support levels (50DMAs). In fact, both indices are still in slight downtrends (short-term) from their last peaks.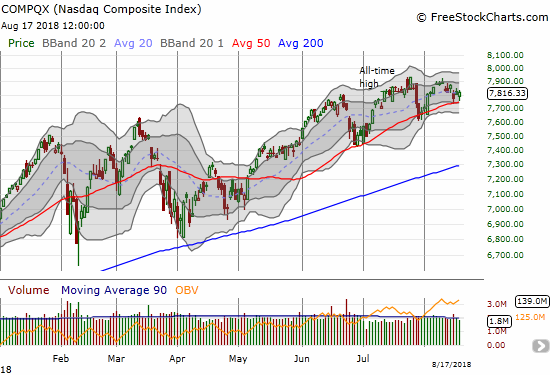 The Nasdaq bounced away from 50DMA support to salvage its performance for the day.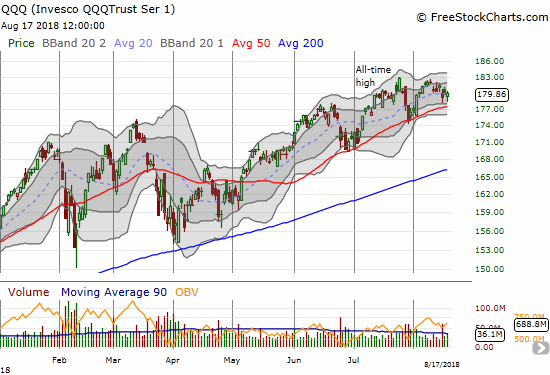 The Invesco QQQ Trust bounced off the week's low to close flat on the day.
The volatility index, the VIX, put an exclamation point on the market's quick return to bullish tones. The VIX fell another 6.0% to 12.6.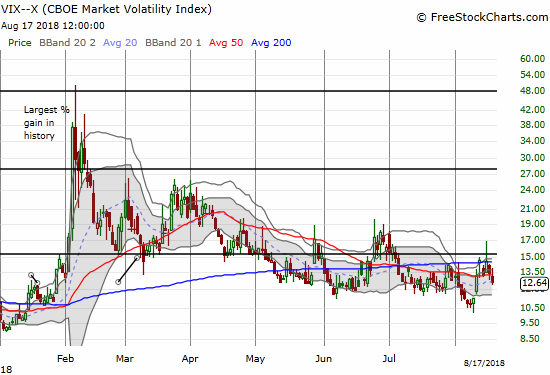 Faders pressed the volatility index, the VIX, once again – back to the muck of the previous range.
My ProShares Ultra VIX Short-Term Futures (UVXY) put options doubled in value on Thursday, and I quickly took profits. On Friday, I returned to my typical hedging trade by loading up on UVXY call options. These options are now so cheap that I extended my expiration horizon from two to three weeks. This gives me a lot of runway to take a few more risks to the long side in the short-term. I will add S&P 500 put options on the next wave of buying in the index.
CHART REVIEWS
Apple
Remember when the usual suspects in big cap tech out-performed Apple (AAPL) and consistently left it in the dust? Well call this Apple's revenge. AAPL gained a whopping 2% on a day when the NASDAQ and QQQ were lucky to close flat. This breakout is almost as bullish as they come and represents a smooth continuation move. I find it hard to get bearish on the market when AAPL is performing this well AND AT40 is on the upswing as well.
Apple launched into another all-time high as the upper-Bollinger Band (BB) provided ample support.
Applied Materials (AMAT) and VanEck Vectors Semiconductor ETF (SMH)
Semiconductors are on my "bear watch" list. AMAT's post-earnings gap down and 7.7% loss to a near 52-week low confirmed 50DMA resistance and highlighted AMAT's extended topping pattern. The chart below shows what is essentially the right side of a 10-month head and shoulders pattern.
The VanEck Vectors Semiconductor ETF (SMH) looks better than AMAT only because the ETF has managed to avoid retesting its 2018 lows set in February and May. For now, SMH looks like it is stuck in an extended trading range while AMAT points the way downward.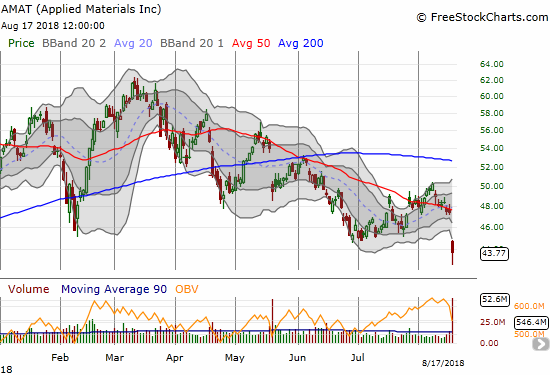 Applied Materials hit a near 52-week low as a post-earnings 7.7% loss seemed to confirm a massive topping pattern.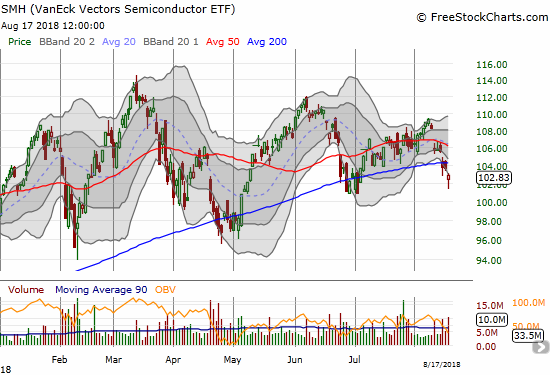 The VanEck Vectors Semiconductor ETF (SMH) is struggling with another 200DMA breakdown.
Tesla
Elon Musk allowed the shorts to get into his head and now his empire looks exposed. TSLA looks almost like "$420 or bust."
In a late earnings season that seemed to feature heavily shorted stocks catching large post-earnings bids, TSLA looked like a storybook winner. TSLA enjoys a float with 29.6% of it sold short. At his last earnings conference call CEO Elon Musk decided to apologize to analysts for his rude behavior during the previous earnings conference call (from Seeking Alpha transcripts):
"I'd like to apologize for being impolite on the prior call. Honestly, I think there's really no excuse for bad manners and I was violating my own rule in that regard. Certainly, I have some excuse. There are reasons for it in that I'd gotten no sleep and been working sort of 110-hour, 120-hour weeks. But, nonetheless, there's still no excuse. My apologies for not being polite on the prior call."
Disclosure: long GIS, short WBA, long CPB call spread, long AAPL calendar call spread; long TSLA shares, calls, and put spread; long TEVA, long UVXY calls, long RDFN calls, long Z ...
more