A Winning Combination: 5 Stocks With Dividend Yields From 3 - 8% & Payout Ratios Less Than 56%
Market Cap: $242.61(mm)
Net Income After Taxes (LTM, CAD, Millions): $32.60
Payout Ratio: 0.32
Div. Yield: 4.3%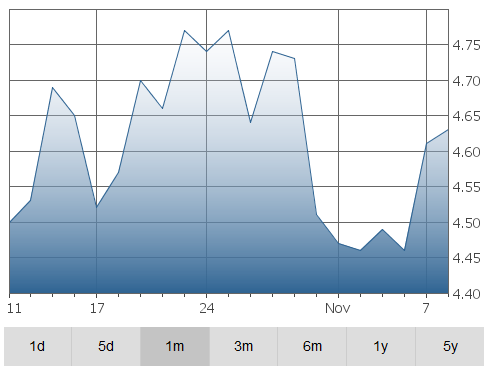 3. Superior Plus Corp. (TSE:SPB)(SUUIF) – $11.81
Oil & Gas Refining and Marketing
Superior Plus Corp. (Superior) is a Canada-based diversified business company that operates through three segments: Energy Services, Specialty Chemicals, and Construction Products Distribution. Superior's Energy Services segment provides distribution, wholesale procurement, and related services in relation to propane, heating oil and other refined fuels under Canadian propane division and U.S. refined fuels division. The Specialty Chemicals segment is a supplier of sodium chlorate and technology to the pulp and paper industries, and a regional supplier of potassium and chloralkali products in the United States Midwest. The Construction Products Distribution segment is a distributor of commercial and industrial insulation in North America, and a distributor of specialty construction products to the walls and ceilings industry in Canada.
Market Cap: $1,686.97(mm)
Net Income After Taxes (LTM, CAD, Millions): $182.40
Payout Ratio: 0.56
Div. Yield: 6.1%

4. Transcontinental Inc. (TSE:TCL.A)(TCLAF) – $17.65
Commercial Printing Services
Transcontinental Inc. is a printing company with operations in print, flexible packaging, publishing and digital media, both in Canada and the United States. The Company's segments include the Printing and Packaging Sector, and the Media Sector. The Printing and Packaging Sector includes the manufacturing activities of the Company and generates revenues from various activities, such as the printing of retail flyers, magazines, newspapers, color books, personalized and mass marketing products, and the production of flexible packaging solutions in Canada and the United States. The Media Sector generates revenues through print and digital publishing products, in French and English, of various types, such as newspapers, educational books, specialized publications for professionals, retail promotional content, mass and personalized marketing, mobile and interactive applications, and geo-targeted door-to-door and digital distribution services.
This article may have been edited ([ ]), abridged (...) and/or reformatted (structure, title/subtitles, font) by the editorial team of munKNEE.com (Your Key to Making Money!) to provide a faster ...
more