A Short-Squeeze Stock To Trade In March 2021
The short-squeeze stock trade has taken center stage in 2021. While many investors and traders are learning about it for the first time, it's a classic strategy that's been used profitably for years.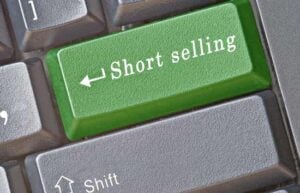 Short selling on its own is not really that sinister. The idea is that an investor thinks a stock price will fall so they sell what they do not have in the hope to buy it back at a lower price. In other words, you sell high and buy low.
To sell a stock short, you have to borrow shares to sell, typically from your broker.
The problem is when you sell something you don't own, you're on the hook for returning it. This works great for the short seller when the price of the stock goes down. But when it goes up, their losses can be unlimited.
This is where the short squeeze trade comes in.
Because the short seller is obligated to return those borrowed shares to their rightful owner, they can't just ride out any market move that goes against them. The higher the stock price moves, the bigger the losses with the chance of even more losses. Either the short seller can't take the pain anymore and cuts their losses as soon as possible, or their broker starts to ask for more collateral on the loan, forcing their hand.
They get squeezed between a lot of pain today and potentially even more pain tomorrow, so they buy back the shares to get out of the trade. This provides extra demand for a stock that is already rising, and the stock price can accelerate even higher.
That's a regular occurrence in the stock market. And it can be a profitable way of making money. After all, most successful trades are a matter of being right while the people on the other side are wrong.
While GameStop Corp. (NYSE: GME) is still in the news for another potential short squeeze, it's far from the only stock people are shorting.
Our experts are digging into the data to find good companies with unusual short interest – the perfect recipe for a short squeeze you can ride higher.
Disclaimer: Any performance results described herein are not based on actual trading of securities but are instead based on a hypothetical trading account which entered and exited the suggested ...
more