A Long Road Of Growth For This Retailer
Multiple long-term tailwinds will drive profit growth for this company while its stock is priced for permanent profit decline. AutoZone Inc. (AZO: $1,141/share) is this week's Long Idea.
We first made AutoZone a Long Idea in February 2014 before closing it out just under a year later for an 8% gain vs. 10% for the S&P 500. We also highlighted the firm in our report Seek Strong ROICs in Turbulent Markets in March 2020.
Despite its recent underperformance, we think this stock offers excellent risk/reward based on AutoZone's:
Long history of growing faster than its peers
Opportunities for continued domestic and international growth
Position to benefit from rising used car sales, rising average age of cars on the road, and the forecasted growth in the number of global vehicles
Stock trading as if profits will permanently decline by 30%
Slow and Steady Wins the Race
AutoZone has grown its revenue in each of the past 22 years. Since 2015, AutoZone's domestic same store sales have grown by 3.1% compounded annually compared to just 1.8% compounded annual growth for the U.S. auto parts retail market. Figure 1 compares AutoZone's year-over-year (YoY) domestic same store growth to the U.S. auto part retail sales growth.
Figure 1: Change in YoY Sales: AutoZone's Same Store vs. Total U.S. Market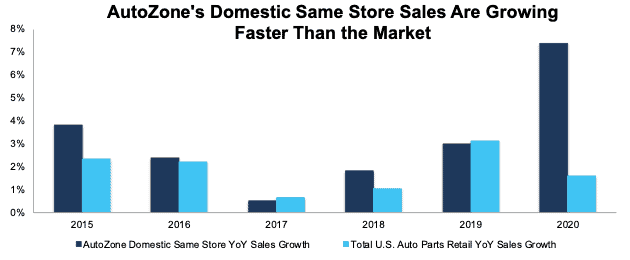 Sources: New Constructs, LLC, company filings & FRED
AutoZone has also consistently grown its international stores as Mexico and Brazil stores represent 10% of total stores in 2020 compared to 5% in fiscal 2010. We expect these international stores to be a long-term source of revenue growth.
Customer Service Provides a Moat Against Retail Giants
Like most specialty retailers, AutoZone faces competition from auto-part store peers as well as big box retailers and e-commerce giants like Walmart (WMT) and Amazon (AMZN). AutoZone's ability to provide specialized customer service that its big box retailer and e-commerce competitors cannot match gives it a major competitive advantage. Free services such as AutoZone's tool loaning program, diagnostic services, check engine light readings, battery testing, battery charging, and collection of oil for recycling are important to building customer loyalty and make switching costs high. Additionally, AutoZone helps customers locate and, in some cases, even install parts.
Even though many customers prefer the convenience of walking out the door of a brick and mortar store without having to wait for an Amazon delivery, AutoZone has developed a competitive e-commerce platform for those who prefer to find their auto parts online. The firm has two websites, one for retail and one for commercial customers, that offer in-store pickup or delivery, which is next-day for 80% of the U.S.
Older Cars Provide Long-Term Tailwind
While the firm consistently outperforms the industry already, and its customer service creates a lasting competitive advantage, long-term demand for auto parts remains important to AutoZone's future profit growth. We think the rising age of cars provides long-term demand for auto parts that will drive long-term growth in profits for AutoZone.
Per Figure 2, the average age of light vehicles on the road in the U.S. has steadily climbed from 8.5 years in 1996 to 11.9 years in 2020. AutoZone calls vehicles seven years and older "our kind of vehicles" because these vehicles are typically out of warranty and require more maintenance and repair than newer ones.
Figure 2: Average Age of U.S. Light Vehicles Since 1996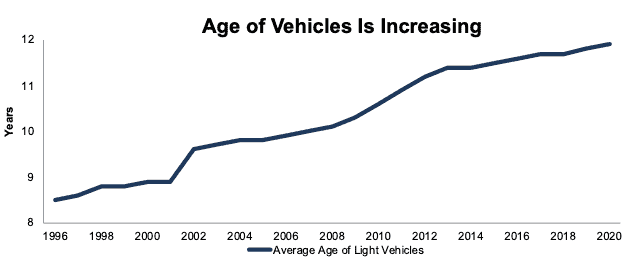 Sources: New Constructs, LLC, BTS & IHS Markit
We think the average age of vehicles on the road will continue to rise as used cars sales rise. After falling to just $6.4 billion in April 2020, used car sales climbed higher each subsequent month before reaching an all-time high of $12.2 billion in July 2020.
Figure 3: Used Car Sales Since March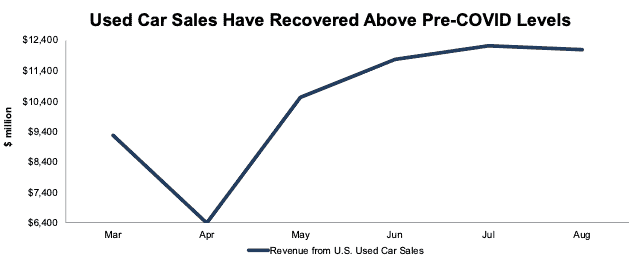 Sources: New Constructs, LLC and company filings.
Revenues Rose Despite COVID-Related Decline in Miles Driven
COVID-19-related disruptions led to a dramatic decline in seasonally adjusted vehicle miles traveled (VMT) in the U.S. While much of the decline in VMT appears to be attributable to short-term pandemic-related disruptions, many are concerned that the rise of work from home will keep VMT low. However, seasonally-adjusted VMT has been on the rebound. VMT fell from 275 billion in February 2020 to just 160 billion in April 2020, before improving to 240 billion (just 13% below February 2020's level) in August 2020 (the last date available).
Furthermore, the lingering reluctance to fly and use public transportation likely provides a boost to VMT over the medium to long term.
Figure 4: U.S. Vehicle Miles Traveled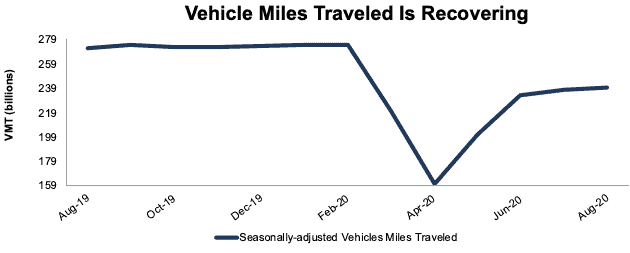 Sources: New Constructs, LLC and FRED.
Most importantly, lower VMT has not translated to lower sales for AutoZone. Despite the decline in seasonally adjusted VMT, AutoZone's sales in fiscal 2020 reached an all-time high. COVID-19-related disruptions have given many customers more time for DIY projects, which drove higher revenue for AutoZone just as it has for Home Depot (HD) and other retailers that support DIY projects. If this short-term trend turns into a long-term shift in consumer behavior, the firm is positioned to continue to enjoy even more growth.
Disclosure: David Trainer, Kyle Guske II, and Matt Shuler receive no compensation to write about any specific stock, style, or theme.