A Good Entry Point In Ollie's
Shares of Ollie's Bargain Outlet Holdings (OLLI) have been under heavy selling pressure lately. The stock is down by more than 45% from its highs of the year, mostly due to industry-wide pessimism and declining same-store sales from the company. However, the business remains solid from a fundamental perspective, with both total revenue and earnings growing nicely. At current prices, the risk and reward trade-off in Ollie's looks favorable to the bulls over the middle term.
The Reasons For The Decline
First and foremost, it is important to understand the broad market context for the sector. Brick and mortar retailers in different categories have been under a lot of pain due to online competition and brutal pricing conditions in the industry over recent years.
Investors tend to generalize, and they, many times, make rough extrapolations from one company to another. After seeing retailers delivering dismal performance over the past several years, there is little patience for companies such as Ollie's bargain when they show any weakness.
Adding to the concerns, Ollie's founder and CEO, Mark Butler, unexpectedly passed away in December. The company has a deep management team with highly experienced executives, but the loss of such an important leadership figure is understandable generating uncertainty.
It is interesting to note that Ollie's bargain actually reported both sales and earnings numbers above Wall Street expectations last quarter, and the stock had a strong rally of over 12% as an initial reaction to the report on December 10, 2019.
But over the ensuing days, the stock lost all of the post-earnings gains and then some more. These declines happened in the context of lackluster numbers from Five Below (FIVE) and other companies in the sector, indicating that this is more of a sector-wide phenomenon as opposed to a company-specific issue alone.
(Click on image to enlarge)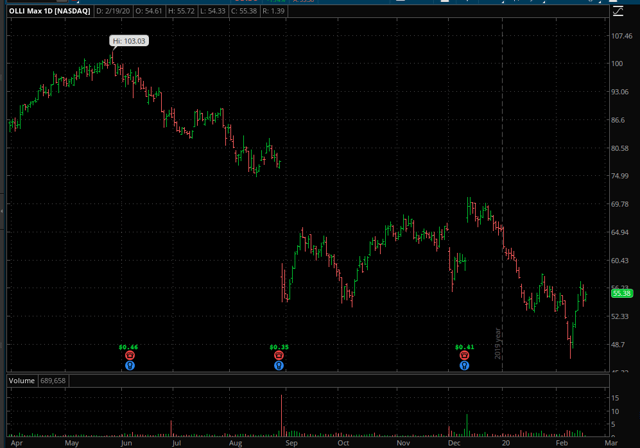 Source: TOS
Back to the specific numbers from Ollie's, total revenue growth was a healthy 15.3% during the quarter, but comparable-store sales declined by 1.4% year over year, and this was arguably the main weak spot in the report.
Disclaimer: I wrote this article myself, and it expresses my own opinions. I am not receiving compensation for it. I have no business relationship with any company whose stock is mentioned in ...
more