A Confused Goldman No Longer Expects S&P To Drop To 2,400 But Sees No Market Upside Either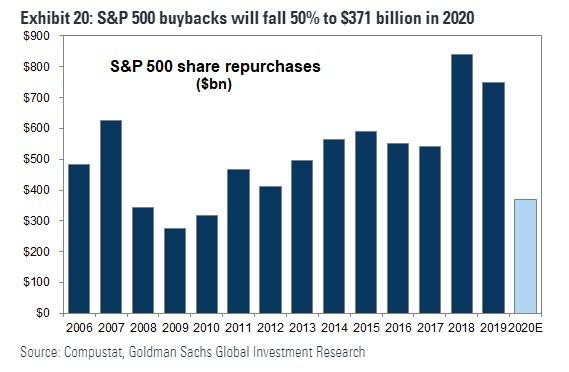 Finally, there are several macro risks exist to Goldman's forecast:
1. Medical developments could go in either direction with a successful antiviral therapeutic or a vaccine representing obvious upside catalysts, while a second wave of infections would be a disappointing and downside development. Investors often cite the declining number of cases in the US as evidence of progress on the health care front. But outside of NY, the case load for the rest of the US has remained relatively steady.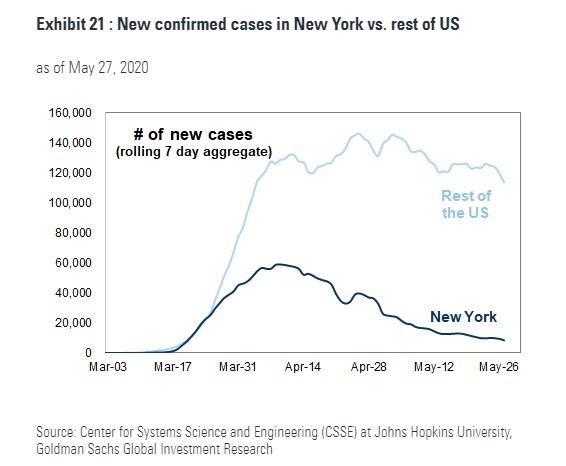 2. Companies may rehire fewer employees or at a slower pace than investors currently expect. As economic activity has frozen, many firms are borrowing money to finance ongoing operations during the downturn. Even with low interest rates, elevated corporate leverage means more debt service in the future and less free cash flow for companies to spend, ultimately restraining the pace of recovery. In the wake of the COVID-19 disruption, companies are accelerating the trends of digitization, automation, and direct-to-consumer business. This fact was clearly apparent in management commentaries across industries during the recent 1Q 2020 quarterly earnings calls.
3. Trade friction between the US and China is rapidly escalating. Based on the heated rhetoric from politicians in each country, the situation seems likely to get worse before it gets better. Greater geopolitical instability is typically associated with lower valuations.
4. Perhaps the most significant risk and source of uncertainty is the US election that is now just five months away. Prediction markets currently assign a 78% probability the Democrats control the House of Representatives, a 51% likelihood of occupying the White House, and a 48% probability of controlling the Senate. The tax reform law passed in late 2017 lowered the median effective corporate tax rate (federal plus state) to 19% from 27%. If the tax law is reversed, it would translate into an 11% reduction in our 2021 EPS forecast (to $150 from $170, and buy-side consensus would fall to $133 from $150). If that development occurs, the S&P 500 index would now be trading at 20x our 2021 adjusted EPS forecast and 23x buy-side consensus expectation.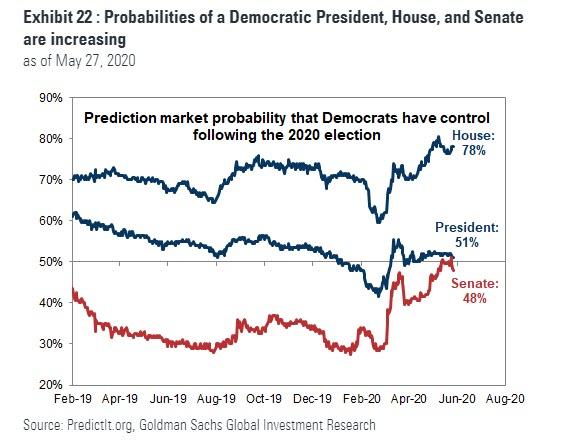 Disclaimer: Copyright ©2009-2020 ZeroHedge.com/ABC Media, LTD; All Rights Reserved. Zero Hedge is intended for Mature Audiences. Familiarize yourself with our legal and use policies every ...
more