A Confused Goldman No Longer Expects S&P To Drop To 2,400 But Sees No Market Upside Either
According to Kostin, five key drivers powered the rally which the strategist failed to see:
A series of critical monetary policy initiatives by the Fed;
massive fiscal stimulus by Congress;
a bending of the viral curve in the US;
a narrow group of large-cap stocks that lifted the cap-weighted index while the typical stock lagged;
optimism about the restart of the economy.
Whatever the drivers, the Goldman strategist writes that the S&P 500 now trades at his year-end 2020 target of 3000 (which is about 23x 2021 S&P EPS).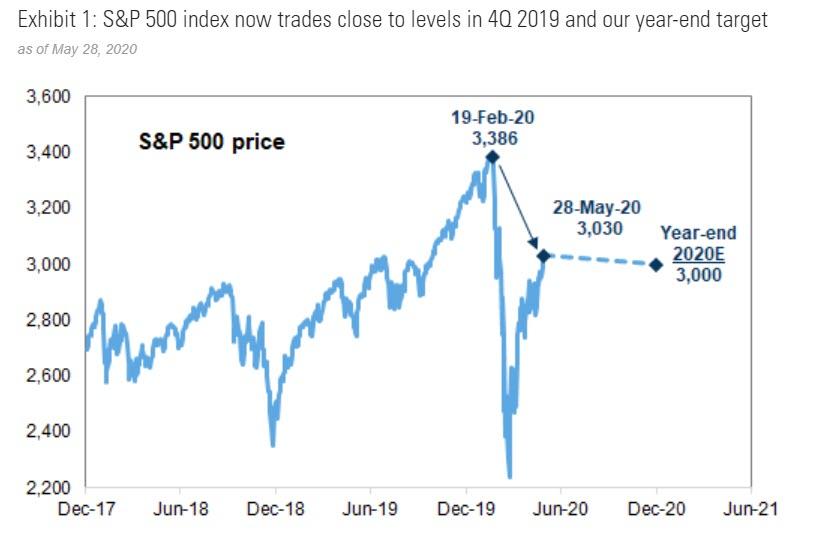 Furthermore, Kostin notes that the bank's "baseline 2021 EPS forecast of $170 represents a best-case scenario -- achievable, but definitely optimistic" and adds that the current valuation based on the macro model implies business steadily normalizes. If these developments transpire, Kostin writes that "at year-end 2020 the S&P 500 will be trading at 18x our 2021 EPS estimate and 20x buy-side expectations," and 26x its downside case scenario.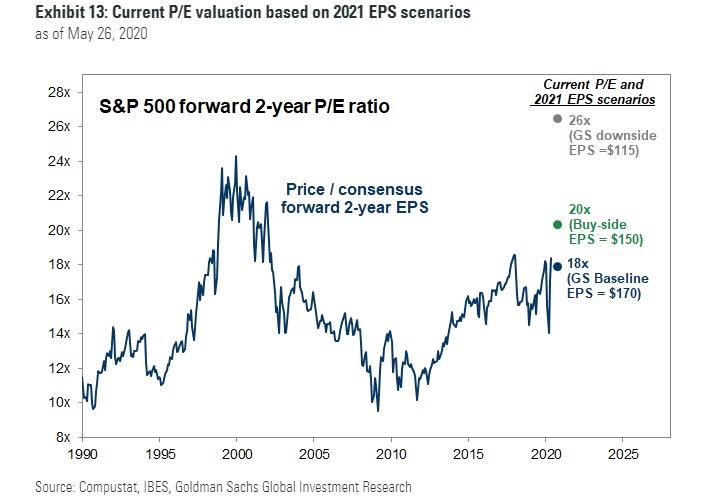 Having reluctantly admitted he failed to predict the rally, Kostin next notes that "the risk of an economic, earnings, trade, or political hiccup to normalization means near-term returns are skewed to the downside, or neutral at best."
But, as noted above, "the powerful rebound means our previous 3-month target of 2400 is unlikely to be realized." And while monetary and fiscal policy support limit likely downside to roughly 10% (2750), bearish investor positioning - which has oscillated between neutral and low - is a possible 5% upside catalyst (3200).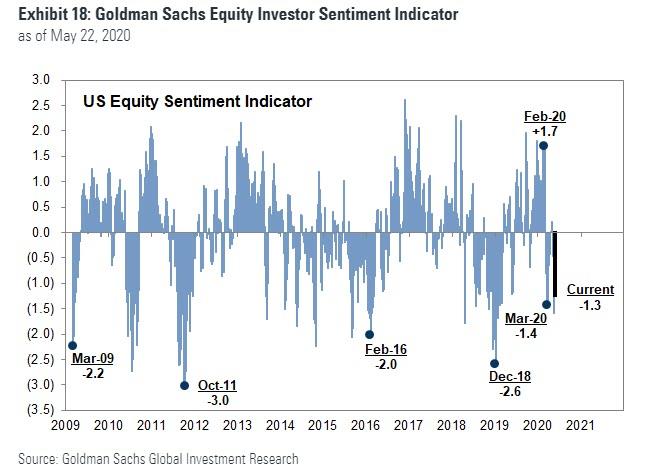 Drilling down into the chart above, Goldman writes that institutional investors, such as mutual funds, are among the investor categories with the most room to increase their equity allocations. Kostin references the CFTC net futures positioning which has continued to decline from levels at the market trough and mutual fund cash positions jumped to a two-year high in March. At the same time, money market funds have experienced effectively no reversal of the $1.2 trillion of inflows experienced during the past three months. Money market mutual fund assets now total $6.0 trillion, which is dry powder that can be used to chase stocks, while "Reduced outflows from active mutual funds could also support equity purchases by this cohort."
In contrast, both hedge funds and retail investors already appear relatively optimistic on the current market outlook. While hedge funds have historically cut leverage and been left underexposed for the ensuing rebound, during the recent sell-off funds cut net leverage by less and stopped cutting at a higher level of exposure compared with previous drawdowns. In fact, contrary to widespread speculation that hedge funds have not participated in the rally, net exposures calculated by GS Prime Services currently rank in the 92nd percentile in the past 10 years. Similarly, data from retail brokerages show roughly a tripling in retail investor trading activity this year.
Disclaimer: Copyright ©2009-2020 ZeroHedge.com/ABC Media, LTD; All Rights Reserved. Zero Hedge is intended for Mature Audiences. Familiarize yourself with our legal and use policies every ...
more