9 Space SPACs For Investors To Consider Ahead Of Ark Space ETF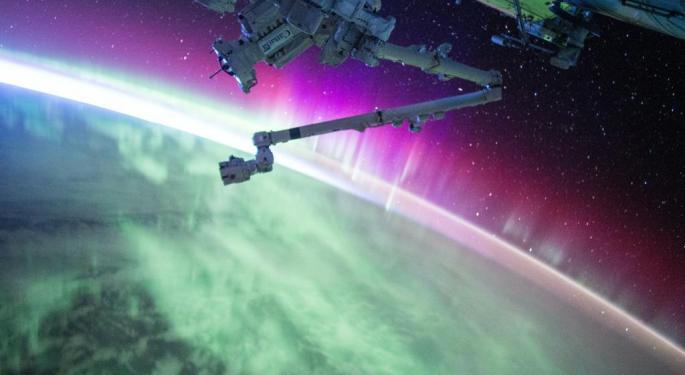 Photo by NASA on Unsplash.
The potential for growth in the space market has been drawing attention from investors. And the space sector could get more attention over the next couple of weeks with the Ark Funds space ETF set to launch as early as this coming Monday.
Here is a look at the space-related SPACs that could be added to the fund and also could be investment opportunities for investors looking for exposure to the sector.
Virgin Galactic
Shares of Virgin Galactic Holdings Inc (SPCE) are down from 2021 highs of $62.80. The company, which plans on taking tourists to space, has had several setbacks, including ending recent test flights earlier than expected.
Virgin Galactic is set to unveil its SpaceShip Three fleet vehicle on March 30, according to the timeline announced in its February conference call. The company has collected deposits from 600 customers who paid $250,000 each to board a future flight to space with Virgin Galactic.
Momentus
Going public with the SPAC Stable Road Acquisition Corp, Momentus is a space company that could attract the interest of Cathie Wood and Ark Funds. The company has been called the "FedEx of Space" by Barron's and is often referred to as a "zero gravity logistics player." The company has a deal in place with SpaceX (SPACE) and plans to launch satellites as a service in the future. The company forecasts annual revenue to hit $1 billion by 2024.
AST
Referred to as the "5G from space" company, AST is a unique offering for investors in both the space and telecommunications sector. The company, which is merging with New Providence Acquisition Corp, counts Vodafone Group (VOD) as a customer and investor.
AST has plans to launch 20 satellites in equatorial regions holding 1.6 billion people. The second phase is to launch 168 global satellites for the European and North American markets. The company is several years away from having significant revenue. AST calls for hitting 9 million subscribers in the year 2023 and 373 million by the year 2027.
Disclosure: Author is long shares SPCE, HOL, SPFR, and SRAC.
© 2021 Benzinga.com. Benzinga does not provide investment advice. All rights reserved.