5 TSX Oil Stocks Set To Climb On An OPEC Output Cut
TM editors' note: This article discusses a penny stock and/or microcap. Such stocks are easily manipulated; do your own careful due diligence.
Written by SmallCapPower.com
Critics...didn't think that OPEC would be able to reach a deal to cut oil supply and raise global prices but, once they did, the markets reacted with a 9% run up in the oil price yesterday and, with the oil price expected to rise further in the days and weeks ahead, the 5 TSX oil stocks on our list - which are trading at a P/NAV well below the peer group average of 0.7x - could be set for a big upswing in price.

1. Meg Energy Corp. (TSE:MEG) (MEGEF) – $5.90
Oil & Gas Exploration and Production
Meg Energy Corp (MEG) is a Canada-based oil sands company. It is focused on sustainable in situ oil sands development and production in the southern Athabasca oil sands region of Alberta, Canada. MEG is engaged in developing enhanced oil recovery projects that utilize steam-assisted gravity drainage (SAGD) extraction methods. The Company has the following commercial SAGD projects: the Christina Lake Project and the Surmont Project. The Christina Lake Project is situated on over 80 square miles of oil sands leases in the southern Athabasca oil sands region of Alberta. MEG owns working interest in the oil sands leases associated with the Christina Lake Project. The Surmont Project comprises over 30 square miles of lands in the southern Athabasca oil sands region of Alberta.
Market Cap: $1,335.85(mm)
YTD Price PCT Change: -26.4%
Net Asset Value – Actual (FY0, Millions, CAD): $3,677.87
P/NAV: 0.36x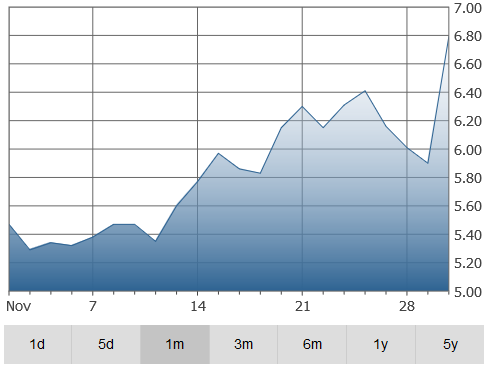 2. Baytex Energy Corp. (TSE:BTE) (BTE) – $4.93
Oil & Gas Exploration and Production
Baytex Energy Corp. is engaged in the business of acquiring, developing, exploiting and holding interests in petroleum and natural gas properties and related assets in Canada (Alberta and Saskatchewan) and in the United States (Texas). The Company's crude oil and natural gas operations are organized into three business units: Lloydminster, Central and United States. Each business unit has a portfolio of mineral leases, operated and non-operated properties and development prospects.
This article may have been edited ([ ]), abridged (...) and/or reformatted (structure, title/subtitles, font) by the editorial team of munKNEE.com (Your Key to Making Money!) to provide a faster ...
more