5 Safe High-Yield Stocks For Double-Digit Income
Turn to these five high-yield stocks going through significant changes to boost their businesses and start earning a safe income stream with strong upside potential. With potential ROIs of 15%, 14%, 17%, and even 36%, these stocks leave traditional income investments in the dust.
A high-yield portfolio is built around only one metric: yield. Typically, a yield around 4% is considered both high and safe. While yields in the double-digits are common, such yields tend to be associated with risky stocks.
Thus, the 4% "safe" stocks comprise the average high-yield portfolio. Such a portfolio is stereotypically boring, consisting of companies that hold stable positions in their respective industries. But within that solution set of near 4% yield stocks exist a handful of companies undergoing significant changes.
Those changes can bring growth to an otherwise stationary dividend portfolio. By ensuring that your high-yield portfolio contains companies undergoing business strategy changes, you can expose yourself to both significant yield and significant price gains. While this portfolio creation strategy requires more research, the added time expense can pay off in the long run.
Of course, substantial changes in the business model add risk to investment in the stock. For this reason, the possibility of a negative price reaction increases. Thus, option strategies can be employed along with holding the stock (for the dividends) to develop a limited-risk holding strategy.
In the meantime, I've done the research for you. What follows are five gems in the high-yield category along with appropriate option strategies to minimize risk. These stocks are making significant changes in 2016 that can lead to attractive growth in their share prices.
Staples (NASDAQ:SPLS)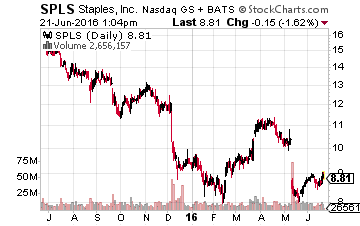 After the Staples-Office Depot merger fell apart, Staples sees itself once again as a competitor of Office Depot. The same goes for Office Depot. Both companies are engaging in new business practices to overtake the other.
Staples's plan seems to be the better of the two. Drawing from the success of Amazon, Staples will be turning its focus to online sales. A new system, "Staples Rush," allows customers to receive online purchases via same-day delivery.
Along with this system comes several more catalysts for growth:
Increased product variety.
Expanded delivery area coverage.
Cost cuts of approximately $300M.
Closures of underperforming stores.
While I expect Staples's strategy to pay off in the long-run, news of store closures and the online transition could result in negative reactions from Wall Street. The online movement in particular puts Staples in an environment where competition with Amazon is necessary. The following holding strategy will allow us to gain the most from holding Staples during this transition.
Buy 100 shares SPLS stock
Sell 1 Dec $10 call
This covered call strategy limits our upside during the transition period but also adds 10% to the annual yield. This results in a 15% yield, regardless of how SPLS moves. SPLS can move upward 14% before our upside is capped.
Disclosure: Tim Plaehn, income expert with Investors Alley, met with the CEO of one of America's fastest growing specialty banks, and what he told me ...
more