5 Low Debt-To-Equity Gold Stocks Are Up +30% In The Past 13 Weeks!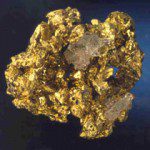 TM editors' note: This article discusses a penny stock and/or microcap. Such stocks are easily manipulated; do your own careful due diligence.
Today's post identifies 5 junior gold stocks with low debt-to-equity ratios that are up +30% in the past 13 weeks.
Written by SmallCapPower.com

1. Majestic Gold Corp. (TSXV: MJS)(MJGCF) – $0.10 Canadian
Gold
Majestic Gold Corp. (Majestic) is a Canada-based gold producer with mining operations in China.
Its principal mining operation is the Songjiagou Gold Mine (Songjiagou), which is located in Muping County on the Jiaodong Peninsula, Shandong Province. The Songjiagou Mine has approximately three processing plants, with capacities of over 200 tons per day (tpd), 1,200 tpd and 6,000 tpd. The gold production from the Songjiagou Gold Mine is approximately 5,500 ounces.
Market Cap: $84 million CAD
Total Revenue (LTM): $38 million CAD
13-week Price PCT Change: +81.8%
Total Debt to Total Equity (FY0): 44.6%

2. Giyani Gold Corp. (TSXV: WDG)(CATPF) – $0.49 Canadian
Gold
Giyani Gold Corp. (Giyani) is engaged in the acquisition, exploration, evaluation and development of principally gold resource properties in South Africa and Canada.
The Company's segments include Canoe, South Africa Mining and Corporate. The Company's projects include Hamlin-Deaty Creek Property, Coldstream Property and Kerrs Property. The Hamlin Deaty Creek Property is located in the Shebandowan Belt, approximately 110 kilometers west of Thunder Bay, Ontario. The Coldstream Property is located in Thunder Bay, Ontario.
Market Cap: $33 million CAD
Total Revenue (LTM): $0
13-week Price PCT Change: 66.1%
Total Debt to Total Equity (FY0): 0.0%

3. Aurvista Gold Corp. (TSXV: AVA)(ARVSF) – $0.24 Canadian
Gold
Aurvista Gold Corporation is a Canada-based exploration company.
Its asset is the Douay Gold Project (Douay), which has interest in approximately 250 contiguous claims totaling over 13,310 hectares; approximately 90% interest in over five contiguous claims totaling over 20 hectares, and approximately 75% interest in over 30 contiguous claims totaling approximately 1,190 hectares in over 290 claims totaling over 14,530 hectares located along a 20-kilometer segment of the Casa Berardi Deformation Zone in the prolific Abitibi Greenstone Belt of northern Quebec.
This article may have been edited ([ ]), abridged (...) and reformatted (structure, title/subtitles, font) by the editorial team of munKNEE.com (Your Key to Making Money!) to provide a ...
more