5 High-Yield Stocks For Growth And Income
Capitalize on this rare opportunity to buy five stocks about to be added to major indexes. Inclusion in these indexes will drive up demand for their shares, therefore increasing their prices. Buy now to lock-in high yields and quick share price appreciation.
A stock can get a nice positive value boost when it is selected to be a newly added component stock in a widely followed index. When a company is added to an index, all of the managers of ETFs and index funds tracking that particular index have to go out and buy shares to keep their funds balanced to match the index. If you buy shares of a stock soon to be added to an index, you can get ahead of all of those fund managers who must buy that stock and their bids should drive the share price higher.
The energy infrastructure sub-sector is primarily populated with publicly traded master limited partnerships (MLPs). The MLP sector was hit hard along with the rest of the energy companies by the decline in crude oil prices. Between the peak in the fall of 2014 and the bottom reached in February 2016, the most popular MLP total return index recorded a 58% decline. However, since that February bottom, MLPs have started to regain favor with income-focused investors and the index is up 55% over the last four months. Because falling and rising percentages do not represent equal changes, the index is still 35% below that 2014 peak.
The Alerian MLP Index (AMZ) and the Alerian MLP Infrastructure Index (AMZI) are the two most widely followed indexes that track the MLP sector. The sector has some interesting characteristics when it comes to individual companies and funds. There are about 120 publicly traded MLPs. Covering this relatively small number of stocks are 25 exchange traded funds (ETFs) and exchange traded notes (ETNs). In addition, there are about 50 mutual funds and closed-end funds focused on MLPs. That is a lot of funds chasing a limited number of individual companies. This means an index component change will have a significant effect on the market demand for the shares of the affected MLPs.
Last week, Alerian announced index component changes that will go into effect on June 17. Three MLPs will be added to the AMZ and two new components are going into the AMZI. Here the additions and some information about each: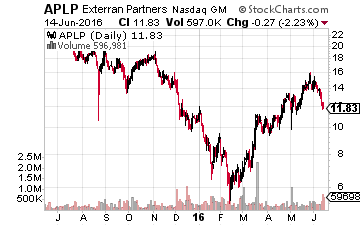 Archrock Partners LP (Nasdaq: APLP) provides compression equipment and services to the natural gas production and transport industries. In May, the company reduced its quarterly distribution by 50%. Now, the dividend rate is covered 2.5 times by distributable cash flow. APLP yields 9.4%.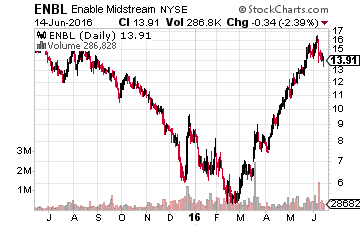 Enable Midstream Partners LP (NYSE: ENBL) is an investment grade rated MLP that provides a full range of infrastructure services to the oil and gas industries. The company has strong sponsors and contracts and has been able to maintain its quarterly distribution through the energy bear market. ENBL yields 8.9%.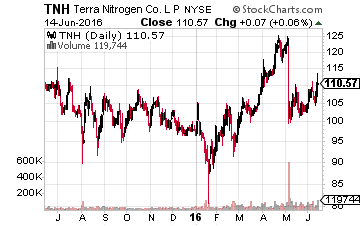 Terra Nitrogen Company, LP (NYSE: TNH) produces nitrogen fertilizer products. This MLP pays variable distributions and is a play on farm commodity prices such as corn and soybeans. The quarterly payments vary quite a lot, but over the last 10 years, TNH has paid $10.75 per share per year on average. The units currently trade for about $110.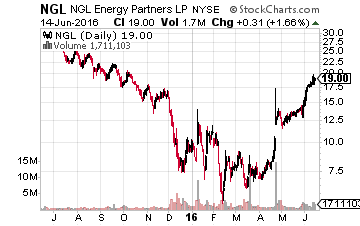 NGL Energy Partners LP (NYSE: NGL) is a diversified midstream and downstream services MLP. In April, NGL reduced its distribution by 39%. The cut ensures cash flow coverage of the distribution going forward and provides free cash flow to reinvest in the business. NGL yields 8.0%.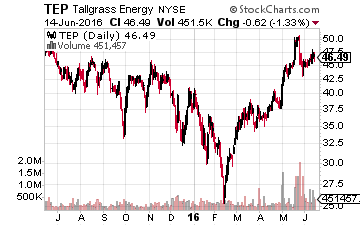 Tallgrass Energy Partners LP (NYSE: TEP) owns and operates both crude oil and natural gas pipelines. This MLP has provided the highest distribution growth rate in the MLP sector for the past several years. Management has guided to 20% annual distribution growth through at least 2018. TEP yields 6.0%.
Finding stable companies that regularly increase their dividends is the strategy that I use myself to produce superior results, no matter if the market moves up or down in the shorter term. The combination of a high yield and regular dividend growth is what has given me the most consistent gains out of any strategy that I have tried over my decades-long investing career.
Disclosure: There are currently over twenty of these stocks to choose from in my more