4 Takeover Stocks To Buy This Summer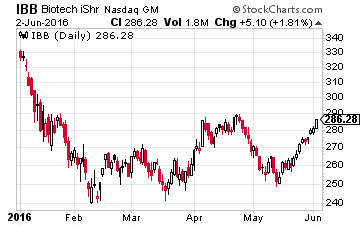 Biotech has gone a real tear over the past three weeks after making several "false starts" over the past several months as it emerges from an immense bear market that began late in July of last year. This move feels more real than previous bounces as it has been accompanied with a measurable uptick in mergers and acquisitions (M&A).
Numerous small and mid-cap biotech companies have been bought out at substantial premiums to where their stocks were previously trading at before receiving offers. Celator Pharmaceuticals (NASDAQ: CPXX), Xenoport (NASDAQ: XNPT) and Anacor Pharmaceuticals (NASDAQ: ANAC) were all acquired in recent weeks for at least a 55% premium to where their stocks were trading at previously. AbbVie (NYSE: ABBV) also acquired privately held Stemcentrix for almost $6 billion in May as well.
This activity should continue to perk up and could turn into a "feeding frenzy" if pursuits of large mid-caps like oncology concern Medivation (NASDAQ: MDVN) turn into full-fledged bidding wars. Large biotech and pharma players need to replenish their pipelines and they are flush with cash. In addition, major mergers seem to be a "no-no" currently with regulators after the U.S. Treasury Department derailed the mega-merger between Allergan (NYSE: AGN) and Pfizer (NYSE: PFE) in April. Bargains in the small and mid-cap space also abound after the sector's recent deep bear market. In short, the M&A genie appears to be back out of the bottle for the resurgent biotech sector, which should bode very well for future capital appreciation.
So which mid-cap and small cap stocks should you be watching?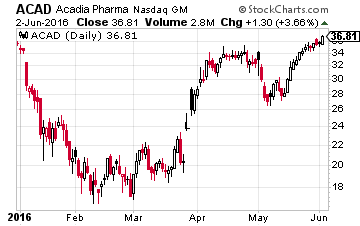 Let's start with Acadia Pharmaceuticals (NASDAQ: ACAD), whose shares I have held through most of 2016. The stock is up some 80% since the FDA gave Acadia the green light to market the first approved treatment for the psychosis found in some 40% of Parkinson's patients. Even with the recent run-up, the stock sports a market capitalization just north of a $4 billion, a bite size chunk for a larger industry player.
Disclosure: Positions: more