4 Reliable Dividend-Paying Companies That Sell To The Companies That Sell To You
When most people think about publicly traded companies, a small number of companies come to mind. There are the hot tech stocks like Amazon, Facebook, and Tesla. You may also think of old-school companies like Johnson & Johnson, Walmart, and Bank of America.
Yet, once people begin investing, many are surprised to learn there are over 5,000 publicly traded companies. Each of these has shares of stocks that trade either on one of the stock exchanges or over-the-counter. When you get away from the well-known, name-brand companies and their shares, you can find tremendous investment opportunities.
One strategy to find little-known stocks with excellent prospects is to look at the companies that supply the big names on the markets. I focus on dividend-paying stocks, and when a popular stock doesn't pay dividends, you can ride the popular companies' successes by investing in their suppliers, especially if you find dividend-paying, dividend growth stocks.
Here are four stocks to get you started: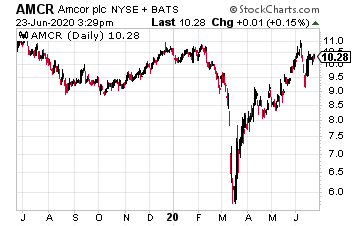 Amcor Ltd. (AMCR) is a global leader in producing responsible packaging for food, beverage, pharmaceutical, medical, home, personal care, and other products. The company was founded in Australia in 1860 and now has 250 plants in 40 countries. Products include a wide range of flexible and rigid consumer packaging.
About half (46%) of Amcor's sales come from North America. The balance is split between Western Europe and emerging markets. Surprisingly, only 3% of sales come from Australia and New Zealand.
The bulk of Amcor's product sales (68%) are for food and beverage packaging products.
Packaging sales is a growth business. From 2014 through 2019, Amcor reported a 7% compound annual EPS growth. Over the same period, the company grew the dividend by a 12% yearly growth rate.
The current yield is 4.4%.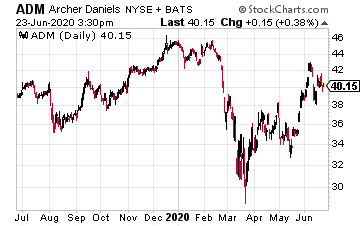 Archer-Daniels-Midland Company (ADM) is an agricultural products company. The company divides its offerings into four product lines: Food & Beverage Ingredients, Animal Nutrition, Industrials—chemicals and ingredients for packaging and personal care—and Biofuels. Services include Farmer Services, Financial Services, and Logistics.
Disclaimer: The information contained in this article is neither an offer nor a recommendation to buy or sell any security, options on equities, or cryptocurrency. Investors Alley Corp. and its ...
more