3 Santa Claus Rally Stocks To Unwrap This Year
While the vaccine rally is still playing out, many traders are already looking ahead to the Santa Claus Rally.
The term "Santy Claus Rally" was first coined by Yale Hirsch of Stock Traders Almanac. He pointed out the calendar anomaly back in 1972.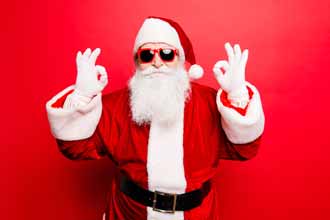 In the last five trading days of December and the first two trading days of January, prices historically have been higher 76% of the time. According to the almanac, the average gain has been about 1.3%, which is much higher than average for a seven-day stretch.
While those new to the markets in 2020 might think a seven-day move of a puny 1.3% is not even worth discussing, historically, it is a fairly large gain over just seven days.
For comparative purposes, the average monthly return for the past decade, one of the strongest in history, has been 1.15%, which is less than the seven-day Santa period.
Over the last two decades, the average monthly returns are right around .6%, so the Santa rally has returned more than twice the average monthly return in less than half the time.
Why Does the Santa Claus Rally Happen?
There are many theories, but the best-fit idea is that tax-loss harvesting has ended. Investors part ways with losers before the new year to manage their tax bill.
Tax-related selling has stopped, and traders who did not fly off to Aspen or the Caribbean for the holidays are buying to get a head start on the January effect.
The best way to find the type of momentum reversal stocks that will benefit from the Santa Claus Rally is to look for stocks that are down in 2020 but have started to reverse as tax-loss selling is ending.
The Santa Rally is a momentum play, so we want stocks starting to recover and are beginning to outperform the S&P 500.
Since chasing Santa is a trading strategy, they need to be large liquid stocks that allow us to move in and out quickly.
Here are a few of the best stocks to buy ahead of the event.
Stocks to Buy for the Santa Claus Rally
Disclaimer: Any performance results described herein are not based on actual trading of securities but are instead based on a hypothetical trading account which entered and exited the suggested ...
more