3 Reasons Why Goldman Now Sees Almost No Upside For Stocks In 2021
Just over a month ago, in our preview of earnings season, we said that "Q1 earnings will be stellar, but are fully priced in and only guidance will matter", and sure enough the broader market is now below where it was a month ago despite the strongest earnings season in modern history: with 90% of S&P 500 companies having reported, the results show EPS rose by 46% year/year, the fastest pace since 1Q 2010, while a whopping 68% of S&P 500 firms have beat consensus by more than one standard deviation, a record high.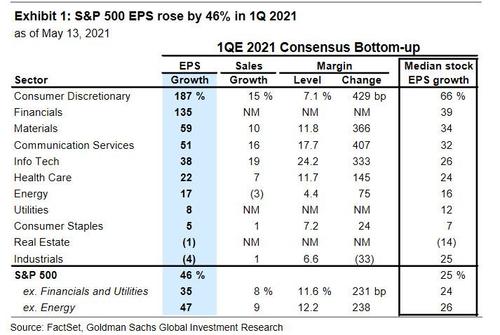 Even crazier, equity analysts expected EPS growth of 20% at the start of the season, but realized growth was more than double that 46% with Consumer Discretionary (+187%) and Financials (+135%) posting the strongest results. Behind these shockingly good results? Better-than-expected net profit margins... although with inflation soaring, fears are spreading that profit margins are about to get clobbered.
It's this growing realization that "Goldilocks" is behind us and profit-crushing inflation - or worse, stagflation - lies ahead that explains why the market was not impressed and punished both companies that missed as well as those that beat expectations: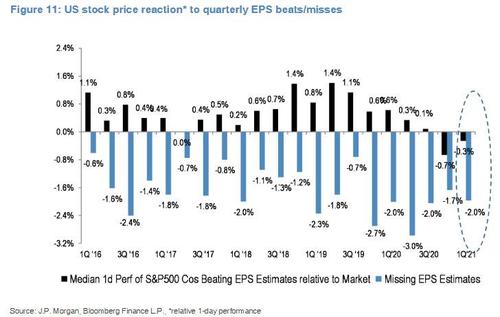 It's also why as Goldman notes, even though 1Q EPS came in 20% above expectations, analyst estimates for 2Q-4Q 2021 and 2022 have been revised up by less than 5%.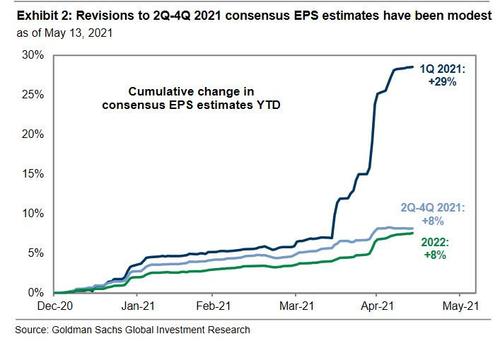 Here Goldman disagrees with the near-term consensus and as chief strategist David Kostin wrote on Friday, "We raise our 2021 EPS forecast to $193 (from $181), driven by a roughly equal contribution from 1Q beats and our expectation of stronger EPS in the remainder of 2021. We also raise our 2022 EPS estimate to $202 (from $197). The combination of global reopening, elevated consumer savings, and strong corporate operating leverage will drive sharp recoveries in both economic and earnings growth. GDP growth is generally the primary driver of earnings growth. Our economists expect real US GDP growth will average +7% in 2021 and +5% in 2022. Following EPS growth of 35% in 2021 and 5% in 2022, we forecast growth of 5% in 2023 and 5% in 2024 as GDP growth decelerates to trend (see Exhibits 3 and 4)"
Disclosure: Copyright ©2009-2021 ZeroHedge.com/ABC Media, LTD; All Rights Reserved. Zero Hedge is intended for Mature Audiences. Familiarize yourself with our legal and use policies ...
more