2020 In 12 Stunning Charts
(Click on image to enlarge)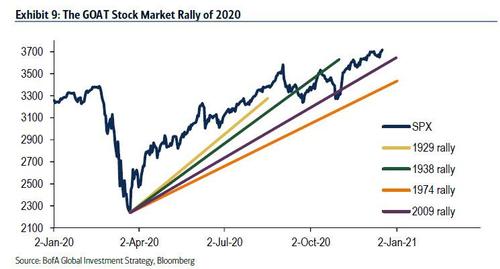 Wall St's optimism heading into 2021 means the S&P500 trades on a trailing PE of > 25X (Exhibit 10), a level only exceeded in 1921 and 1999.
The capitulation of consensus to "don't fight the Fed", front-running MMT, secular tech-led productivity…many catalysts exist for more years of big equity gains…but an old-fashioned bubble remains the most plausible catalyst.
(Click on image to enlarge)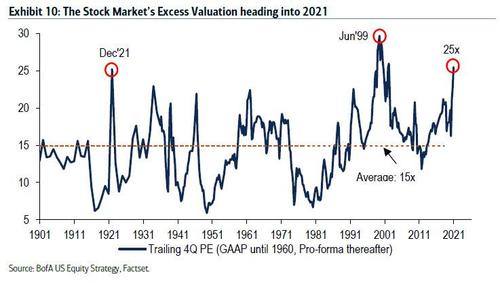 Wall St in 2020 was also marked by significant polarization of returns: in recent months, the top 5 companies in the S&P500 represented a breathtaking 25% of the index (Exhibit 11).
The rally broadened by style, sector, size & region as 2020, and the year ended with the majority of equity & credit investors adopting a fashionable "barbell" approach to investing.
(Click on image to enlarge)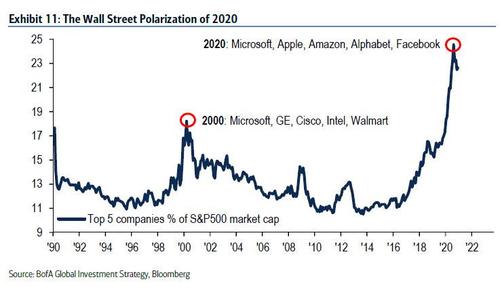 The bottom line: the Fed, which set off to "fight" inequality has failed tremendously because as even BofA admits, "the pandemic worsened inequality in 2020" - value of financial assets (Wall St) relative to economy (Main St) hit all-time high of 6.3x (Exhibit 12).
This won't improve without a revolution, as the coming years will be marked by bigger government, dollar debasement, policy flip from monetary & QE to fiscal & MMT, all in an attempt to increase price of labor relative to capital yet which will achieve just the opposite; 2020 was the year of COVID-19 pandemic; it will, according to Hartnett, "also be remembered as the secular low point for both inflation & interest rates."
(Click on image to enlarge)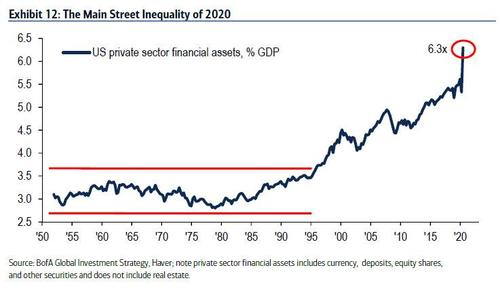 Disclaimer: Copyright ©2009-2020 ZeroHedge.com/ABC Media, LTD; All Rights Reserved. Zero Hedge is intended for Mature Audiences. Familiarize yourself with our legal and use policies every time ...
more