2020 In 12 Stunning Charts
(Click on image to enlarge)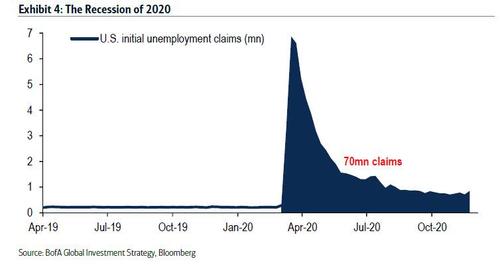 Investors began the year in a very bullish frame of mind; mood flipped to maximum bearish by mid-March and remained there until mid-June according to the BofA Bull & Bear Indicator (Exhibit 5).
Investor sentiment has since recovered, particularly after vaccine announcements in early-Nov; the BofA Bull & Bear Indicator has accelerated to 6.7 and is approaching the Sell zone.
(Click on image to enlarge)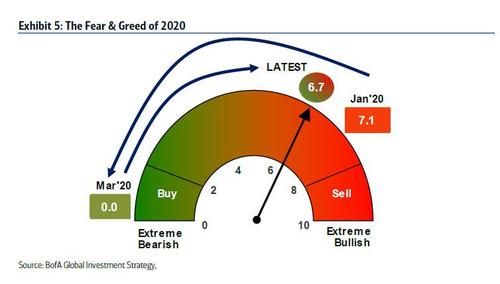 The virus, crash, lockdown & recession provoked an unprecedented monetary & fiscal policy panic (Exhibit 6); $22tn of stimulus has been announced in the past 9 months around the world.
Central banks spent over $1tn a month on financial assets via QE, crushing yields, volatility, and spreads, successfully inciting asset price inflation on Wall St to short-circuit recession on Main St.
(Click on image to enlarge)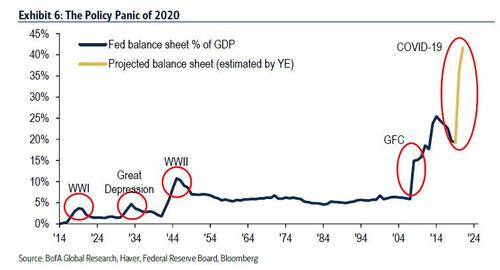 And presaging a secular shift from monetary QE to fiscal MMT, $14tn of fiscal stimulus was announced; the quantity of global debt now stands at a record $277tn, the price of debt also at a record 5,000 year low (global negative-yielding debt =$18tn).
The US government transferred $2 trillion directly to the household sector in 2020 (Exhibit 7), and consumer spending was nothing short of heroic in face of virus and unemployment, but Wall St & Main St's addiction to government bailouts now habitual.
(Click on image to enlarge)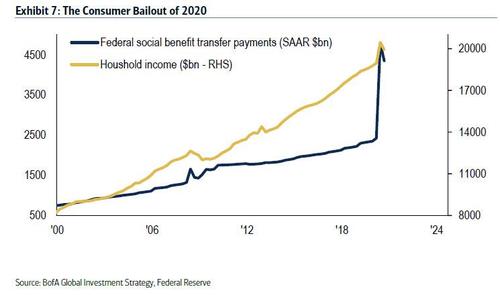 The policy panic led to an epic rally on Wall St and a dramatic V-shaped economic recovery in H2'2020.
The recovery was led by China where industrial production (Exhibit 8) and exports quickly recovered to pre-COVID-19levels, but more remarkable to many was the rebound in US consumer spending (retail sales are currently $32bn higher than in Jan'20).
(Click on image to enlarge)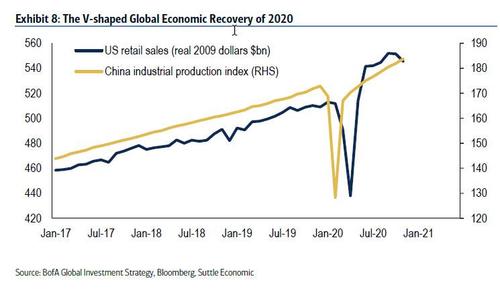 Global equity market cap has soared by $40tn to over $100tn since the Mar'20lows.
The rally off the Mar'20 lows (Exhibit 9) has surpassed all of the 4 greatest rallies off the lows of the past century (1929,1938, 1974, and 2009).
Disclaimer: Copyright ©2009-2020 ZeroHedge.com/ABC Media, LTD; All Rights Reserved. Zero Hedge is intended for Mature Audiences. Familiarize yourself with our legal and use policies every time ...
more