2 Tech Stocks To Buy Now At Big Discounts For Long-Term Growth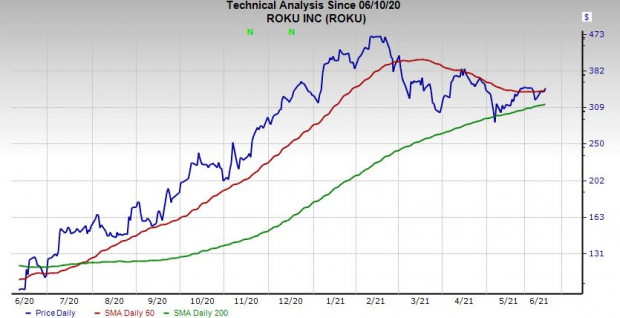 Image Source: Zacks Investment Research
Roku provides access to an audience that marketers crave. The company said that in the first quarter "over 85% of the adult 18-49 audience reach delivered on The Roku Channel was unduplicated with traditional TV."
Roku topped our Q1 FY21 estimates in early May, with revenue up 79%—its best since it went public in 2017. The top-line expansion was driven by a 101% surge in its ad-heavy Platform sales that accounted for roughly 80% of total revenue, after its monetized video ad impressions more than double year-over-year.
Plus, it added 2.4 million incremental active accounts to hit 53.6 million, with its average revenue per user up 32%. And it posted positive adjusted earnings for the third quarter in a row to blow away our estimates that called for a loss.
Zacks estimates call for Roku's FY21 revenue to soar 54% from $1.8 billion to $2.7 billion, with FY22 set to climb another 40% higher to reach $3.8 billion. These estimates extend its streak of 40% or stronger sales growth to five straight years. Plus, it's projected to swing from an adjusted loss of -$0.14 a share last year to +$0.37 in FY21 and then skyrocketed to +$0.97 a share in 2022.
Like NOW, Roku has tumbled since it hit records in February, as Wall Street sold high-flyers. Despite the pullback, the stock is still up 200% in the last year and 740% in the past three. Roku popped Thursday as part of a nice run since mid-May. At around $350 it trades roughly 28% below its records. The stock also trades 40% under its year-long highs at 14.1X forward 12-month sales and it sits underneath overbought RSI (70) levels at 55.
Roku just popped above its 50-day moving average, which could mean it's ready to regain some momentum. The stock currently lands a Zacks Rank #3 (Hold) but its FY21 and FY22 consensus estimates have soared since its first-quarter release.
On top of that, 15 of the 18 brokerage recommendations Zacks has are "Strong Buys." Therefore, investors might want to buy Roku as a long-term bet on streaming TV and the digital ad space.
Disclaimer: Neither Zacks Investment Research, Inc. nor its Information Providers can guarantee the accuracy, completeness, timeliness, or correct sequencing of any of the Information on the Web ...
more