2 Tech Stocks To Buy Now At Big Discounts For Long-Term Growth
NOW has expanded its revenue by over 30% every year since it went public in 2012, including 31% growth last year. The company then topped our Q1 FY21 estimates at the end of April, with sales up 30%. ServiceNow also closed the quarter with 1,146 customers with more than $1 million in annual contract value, up 23%.
ServiceNow will benefit from the constant wave of technological innovation that forces businesses from all industries to adapt and spend to keep up. And the company announced in late March its plans to acquire robotic process automation firm, Intellibot, to help extend its "core workflow capabilities by helping customers automate repetitive tasks for intelligent, end-to-end automation."
Zacks estimates call for NOW's full-year revenue to climb 27% to $5.7 billion, with FY22 set to jump another 25% higher to reach $7.2 billion. Meanwhile, its adjusted earnings are expected to jump 19% and 28%, respectively.
NOW has consistently and easily topped our bottom-line estimates, including a 16% average beat in the trailing four quarters. And ServiceNow executives said last quarter that "we have strong momentum on our way to becoming a $10 billion revenue company."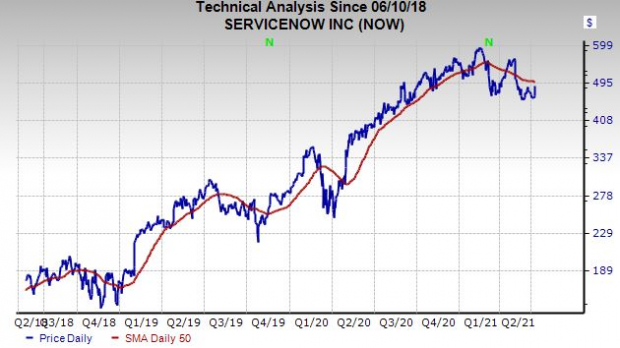 Image Source: Zacks Investment Research
NOW has skyrocketed 560% in the past five years to blow away the Zacks tech sector's 200% climb. Luckily for those who might have missed out, its shares have cooled off, lagging its tech peers in 2021, down 12%. The stock tumbled after its Q1 report on the back of lackluster guidance. But NOW popped 5% Thursday after Goldman Sachs put ServiceNow on its conviction buy list.
ServiceNow sits about 20% below its February records and hovers near-neutral RSI levels as it attempts to climb back near its 50-day moving average. The stock is trading 15% below its own year-long median at 14.4X forward sales. And NOW lands a Zacks Rank #3 (Hold) given its stagnant EPS revisions.
Wall Street remains high on NOW, with 18 of the 23 brokerage recommendations Zacks has coming in at "Strong Buys," with two more "Buys," and none below a "Hold." Therefore, investors might want to consider NOW as a growth-focused software play that's prepared to benefit from the subscription model and the booming SaaS space alongside Salesforce (CRM Quick Quote CRM - Free Report) and countless others.
Disclaimer: Neither Zacks Investment Research, Inc. nor its Information Providers can guarantee the accuracy, completeness, timeliness, or correct sequencing of any of the Information on the Web ...
more