2 Best E-Commerce Stocks To Ride This Global Trend Higher
Successful investing is all about finding the opportunities hiding in plain sight. And there's no better place to find these opportunities than in the e-commerce sector. I'm going to show you two of the best e-commerce stocks you can buy now, and they aren't what you think…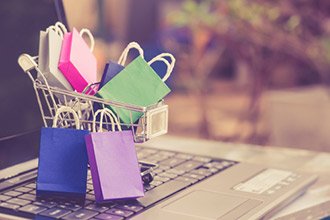 With a vaccine potentially still months away and many physical stores still closed or limiting their customers, people have continued to turn to the Internet for their retail needs.
This trend is still growing. The Department of Commerce reports that out of roughly $1.3 trillion in retails sales in the second quarter of 2020, $211 billion was e-commerce. That is 16.1% of total retail sales, up 36.44% quarter over quarter and up almost 50% in one year on a percentage basis. That's a lot of new business coming in for companies like Amazon.com Inc. (NASDAQ: AMZN), Shopify Inc. (NYSE: SHOP), and Walmart Inc. (NYSE: WMT). These days you can get anything online, from a car at Carvana Co. (NYSE: CVNA), to pet food at Chewy Inc. (NYSE: CHWY), to groceries from Instacart, Amazon, or Peapod.
This isn't going away either. While people will no doubt return to physical retail, a fundamental change has happened in the way people shop, and that will last forever. For me, I've found grocery delivery to be much easier than going to the grocery store. Even buying a new chair from Wayfair Inc. (NYSE: W) using its augmented reality technology was a very pleasant experience.
But these are the first companies you think of when you think of e-commerce. That means every other investor has thought of them too.
What I'm going to show you are the real opportunities in this trend, because it's going global…
The Best E-Commerce Stocks Are Still Under the Radar
You see, the United States isn't the only place seeing big gains in e-commerce. I'm going to share with you two companies that I've been keeping a close eye on that still have plenty of room to run higher.
Disclaimer: Read our disclaimer here.