160 Billion Reasons To Buy Square
Square (SQ) has a remarkably smart business model. The company provides the hardware at low prices, and this is a customer acquisition tool that allows Square to expand into far more profitable businesses such as software and services. In addition to this, the company is building new growth engines with credit services and its digital wallet Cash App.
With an estimated addressable market worth $160 billion and growing, the company is well-positioned for sustained expansion in the years ahead. Macroeconomic risk is a key factor to consider. However, at current prices, Square is offering abundant upside potential for long-term investors.
An Outstanding Growth Business
Square started by providing access to debit cards, credit cards, and digital payments to small businesses and micro-merchants. The company provides the hardware at aggressively low prices, and then it makes big profit margins on payments processing.
Even better, Square is leveraging on the opportunity to provide all kinds of software and services to an underserviced customer base. The software segment tends to be very sticky, generating recurrent revenue and attractive profit margins for Square.
In addition to this, Square is expanding into credit services, and it has an enormously valuable source of competitive advantage in this market due to its access to all kinds of sales and inventory data from small merchants, which allows it make better decisions regarding credit risk and to provide a superior customer experience in comparison to other sources of credit such as banks.
The Cash App digital wallet is also growing at full speed and with enormous potential going forward. Cash App gross profit grew 115% year over year last quarter, and the company is expanding into new functionalities such as investing in fractional shares of stocks and Bitcoin trading.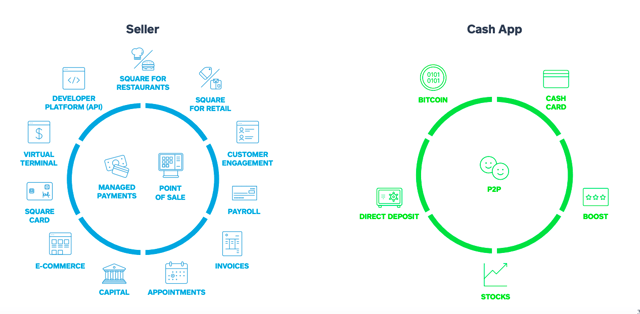 Source: Square
Based on management estimates, Square has only penetrated less than 3% of its market opportunity in the seller segment and less than 2% of the market opportunity in Cash App. The company calculates that the total addressable market could be worth as much as $160 billion and with multiple growth avenues for the two segments combined.
Disclaimer: I wrote this article myself, and it expresses my own opinions. I am not receiving compensation for it. I have no business relationship with any company whose stock is mentioned in ...
more