100 Million Stimmys To Be Delivered In Next 10 Days: How Much Will Go Into Bitcoin
Moments ago Biden made it clear that the next week will see an epic inflow of new capital, much of which will be used to chase various stocks, cryptos, and other risk assets.
BIDEN: OVER NEXT 10 DAYS 100 MILLION CHECKS WILL BE DELIVERED
Which again brings us to what BofA said is the "Most Important Question" for investors: Where Will Biden's Trillions In Stimmys End Up?
To address this question, yesterday we focused on equities, where a lengthy analysis from BofA found that since much of the stimulus will likely end up with higher-income households, much of it won't be spent but rather saved, including in the form of equity allocation. We also noted a recent Deutsche Bank poll of online brokerage account users which found that roughly 37% would invest stimmy checks in the stock market. What does this mean quantitatively:
"Given stimulus checks are currently penciled in at c.$405bn in Biden's plan, that gives us a maximum of around $150bn that could go into US equities based on our survey. Obviously only a proportion of recipients have trading accounts, though. If we estimate this at around 20% (based on some historical assumptions), that would still provide around c.$30bn of firepower – and that's before we talk about any possible boosts to 401k plans outside of trading accounts."
DB's conclusion: "stimulus checks could accelerate the large inflows into US equities seen in recent months after many years of weak flow data. Will this be enough to offset any impact of higher yields? Expect this push/pull to continue for some time."
What about that "other" asset, the one which incidentally is the best performing one YTD according to none other than Goldman Sachs?
(Click on image to enlarge)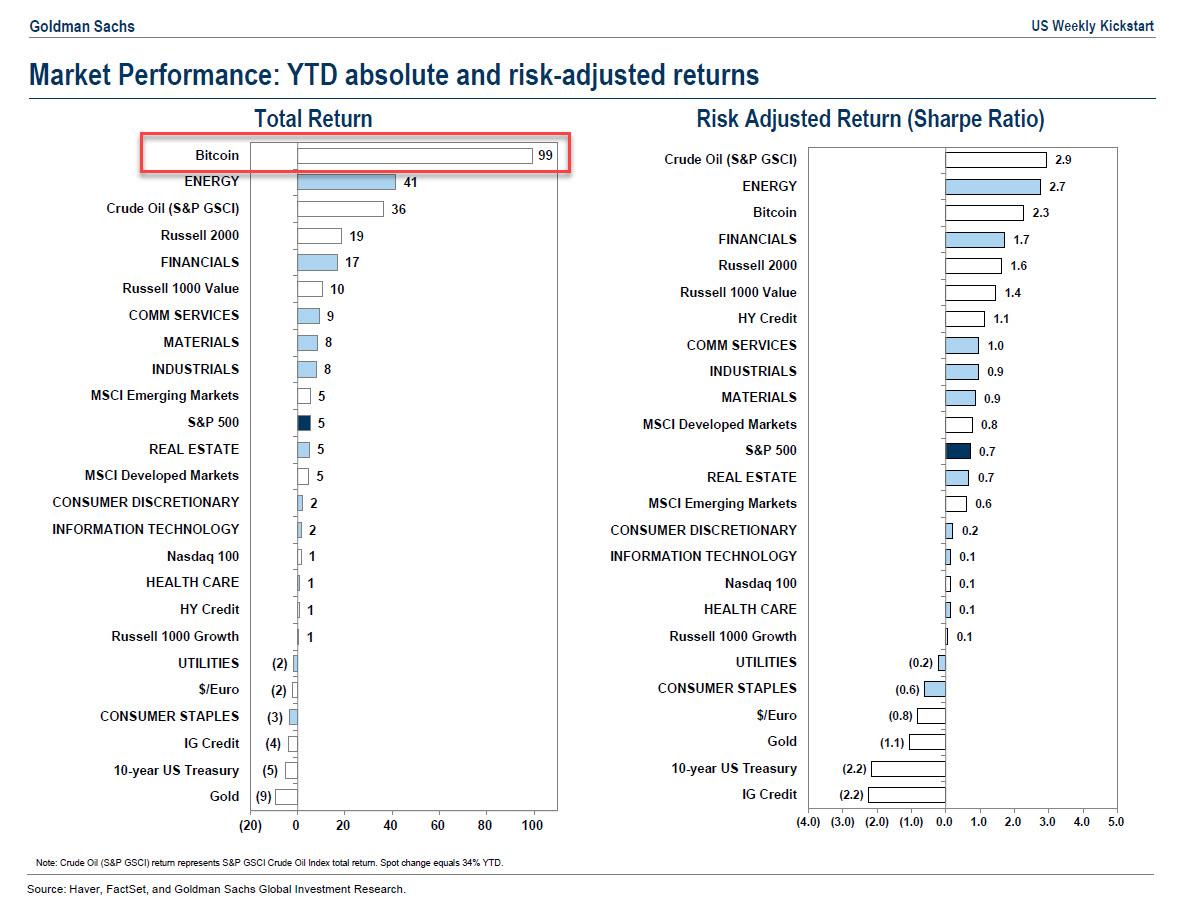 Well, according to a brand new survey by Japanese bank Mizuho which polled 235 people with a household income under $150,000, and who expect to receive the latest round of stimmy cash, around 10% of U.S. stimulus checks may be used to buy Bitcoin and stocks, equating to around $40BN in total! Up to 40% of respondents said they would invest the direct payments into BTC and stocks, with 61% saying they would choose Bitcoin over equities.
Disclaimer: Copyright ©2009-2021 ZeroHedge.com/ABC Media, LTD; All Rights Reserved. Zero Hedge is intended for Mature Audiences. Familiarize yourself with our legal and use policies every time ...
more