10 Years And 401% Later: A Look At The Longest "Bull Market" Ever
Exactly ten years ago on March 9, 2009, just as rumors were swirling that the Fed would unleash and expand its QE1 program by $1 trillion (confirmed on March 18, 2009), the current "bull market" began and since then, despite coming within inches of ending twice once in 2011 and again on December 24, 2018 when a last minute buying surge prevented a 20% peak to trough drawdown, the S&P 500 has climbed by 306% in price, or 15.2% annualized, while including dividends, the index has generated a total return of 401% (17.5% annualized), ranking in the 94th percentile of 10-year annualized returns since 1880.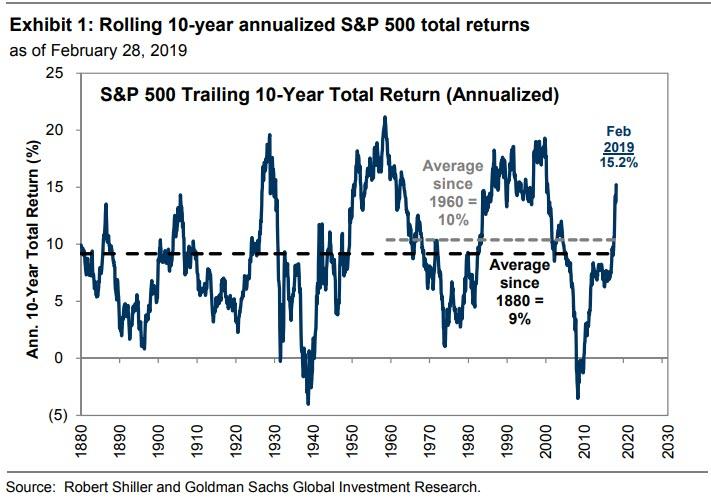 Curiously, despite the record duration of the bull market, which was made possible largely thanks to two key catalysts: an unprecedented expansion of central bank balance sheets which bought over $15 trillion in assets in the past decade, as well as trillions in stock buybacks, the S&P 500's return including dividends trails all but one of the 12 bull runs since the Great Depression. In fact, according to Bloomberg, along with the post dot-com bubble advance of 2002-2007, it's one of only two cycles that hasn't scored annualized returns of 20 percent or more.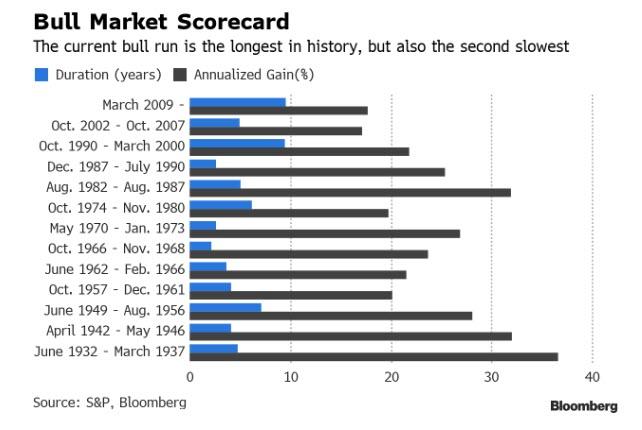 While the length of the "bull market" is staggering, Bloomberg makes the case that depending on how one looks at it, the past 10 years have been relatively underachieving as far as bull markets go: at its all-time high reached in September, the S&P 500 stood roughly 80% above its most recent peak, in October 2007. While certainly impressive, it's far from the biggest, as during three other cycles - 1949-1956, 1982-1987, 1990-2000, the bull run didn't stop until share prices had doubled from their previous top.
"When you ascend far enough, the air gets thin, as I am finding out as I climb stairs in Colorado," said Brad McMillan, chief investment officer for Commonwealth Financial Network.
Meanwhile, as noted above, the rally nearly ended on two occasions when it just barely missed the cutoff of a -20% drawdown that denotes the end of a bull market. As Goldman's David Kostin notes, at one point in 2011, the S&P 500 had dropped 19.4% below its high. More recently, on December 24, 2018 the S&P traded 19.8% below the September all-time high, having slid below 20% intraday and only a surprising late day bid preserved the rally... just as Steven Mnuchin was calling the Plunge Protection Team. For now, following the torrid rebound in January and February, the bull marches precariously on, with a realized volatility of 16.0 since 2009, in line with the 50-year median of 16.1.