Stock Market Update: Have We Reached Cruising Altitude Yet?
But with the European Economy in decline, and the EC's forecast of economic growth cut from 1.9% to 1.3% in large part due to the US-China Trade Wars, is it any wonder the US Dollar is bid up as safe haven? The one big tailwind to the continuing market advance is global synchronized slowdown. And ironically. the slowdown will accelerate as the dollar picks up speed to the upside.
Fed In "Calming" Mode
Great point here from Jeff Miller, Dash of Insight:
The Fed will be patient in waiting for actual signs of inflation and flexible in the pace of balance sheet reduction. The Fed and the markets disagree over the strength of the economy and the significance of the continuing size of the balance sheet, but for now the Fed is in "calming" mode. Ace Fed watcher Prof. Tim Duy has a complete analysis of what happened, along with his own conclusions.
————
"What a difference a month makes. Stocks are up the most since 1987. A month ago there was a 45% probability of a rate hike in 2019. Now there is 45% probability of a rate cut. – Danielle DiMartino Booth of @DiMartinoBooth
To add insult to injury,any Fed Rate Cut to mitigate the trade war impacts may only cause market panic – as it did in prior cycles (charts credited to @CoryLVenable):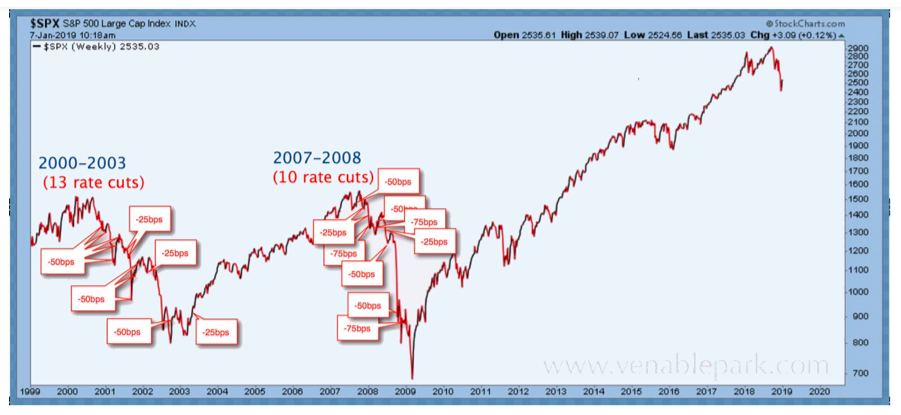 We should have a better read at the March FOMC meeting so add this date to your Volatility calendar: March 20th!