Stellar Lumens Price Prediction For 2025: Why $6 A Coin Is Possible
Every cryptocurrency wants to be the first digital currency accepted worldwide. Stellar Lumens is already on its way after some landmark business deals with organizations in Ukraine, Bahrain, Germany, and more.
Pay attention, because more partnerships like these could push the Steller Lumens price to $6 by 2025. That's 1,478% from today's price.
You don't want to miss it.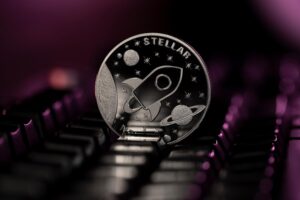 Cryptocurrency took a significant dip in the last year, with the Bitcoin price falling as much as 42%, from an all-time high above $63,000 to $36,000. Stellar Lumens dropped about 50% in May as well.
Many crypto bears say it spells the end of cryptocurrency. But don't get all bent out of shape over those Elon Musk tweets. Crypto is here to stay. And there's still the matter of which coin will be king.
Stellar Lumens is one of those top coins vying for the throne. Today, we give you a Stellar Lumens price prediction that reflects that. It sounds outrageous, but it could make even more sense than a $1 million Bitcoin with what we're seeing…
One thing is certain about crypto right now – it's highly volatile. Stellar Lumens is no exception. But it also has significant catalysts that other coins don't. These have given Stellar the staying power to last the recent months of crypto downturn.
Before we show you this Stellar Lumens price prediction for the next five years, here's what you should know about the coin.
What Is Stellar Lumens?
Stellar Lumens is an open-source blockchain platform on which the Stellar Lumens cryptocurrency is traded. It was founded by Jed McCaleb, a co-founder of Ripple (XRP).
What separates Stellar Lumens from other cryptos is a combination of speed, security, and cost-effectiveness in transactions. Usually, if someone complains about a cryptocurrency, it's because it lacks one of these three things. That would make Stellar Lumens a must-buy on paper.
Stellar Lumens' market cap is just under $9 billion, which pales in comparison to Ethereum's (the biggest altcoin out there) $305 billion. However, that still puts it in the top 20 cryptocurrencies by market cap.
Disclaimer: Any performance results described herein are not based on actual trading of securities but are instead based on a hypothetical trading account which entered and exited the suggested ...
more