Retail Sales' Amazon Pick-Up
It's therefore much easier to dismiss this condition as "transitory."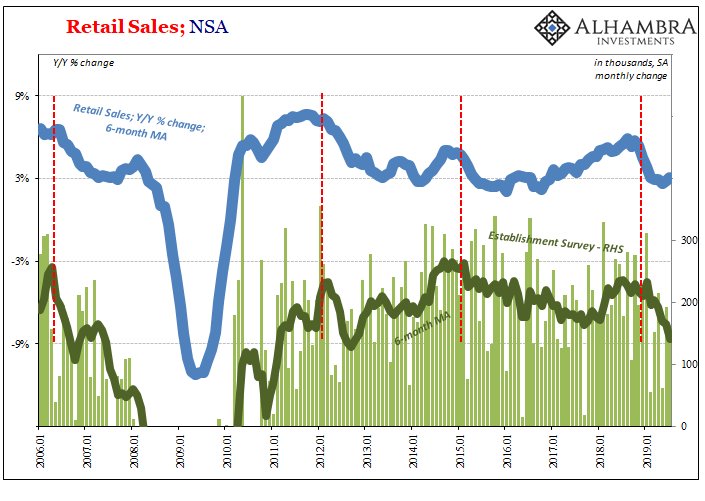 The correlation isn't perfect, considering there's price changes in retail sales data, but the whole "steady jobs gains" idea just isn't true as you can see above. There's been a very clear shift in the US labor market – one that hasn't been captured by the unemployment rate, nor is there a determined effort to appreciate it given the spectacle of every payroll Friday to claim blowout numbers in whichever single month (even though those, too, have become much less frequent and smaller).
If consumer spending has slowed, and it has, then it's because at the margins Americans can sense the economy and the labor market did. The Euro$ landmine shows up in both the employment figures as well as retail sales. The unemployment remains the wrong way to assess the situation.
What happens from here on is a matter of how the rest of the economy continues to react to "overseas turmoil" and the growing recession in the goods economy. If the labor market maintains the same trajectory, even if it doesn't unleash a huge wave of immediate layoffs, we should expect more of the bad retail sales months and only a few good ones like July that aren't really all that good.
Disclosure: This material has been distributed for informational purposes only. It is the opinion of the author and should not be considered as investment advice or a recommendation of any ...
more