Retail Sales' Amazon Pick-Up
There is some distortion in the current monthly figure, too. Amazon Prime Day, which was held starting July 15, was by all accounts a huge success for Amazon. The company said it sold 175 million items during the expanded 48-hour sales window. That's up from 100 million the year before. While those figures relate to every country in which the event applied, eighteen of them this year, there's every reason to believe that there was a very real effect on US sales.
Amazon did not and does not disclose specific gross merchandise values or volumes, but we don't really need their estimates. Prime Day very clearly shows up in the Census Bureau's figures for July.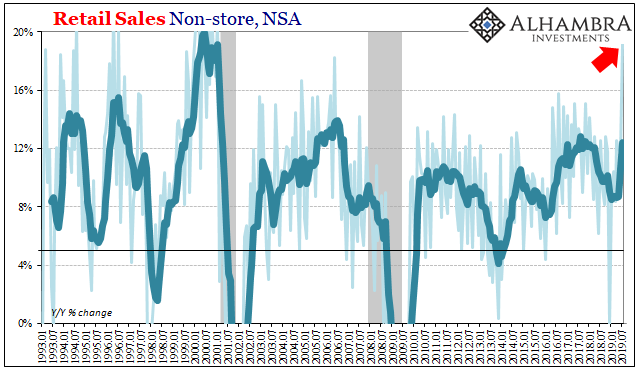 Sales of non-store retailers rose by nearly 20% year-over-year last month. That's the best month for this category since the dot-com era. This would propose that Prime Day wasn't just a success, it was enormously fruitful.
There are two ways to take this result, though. On the one hand, good for Amazon being able to pull off a huge retailing feat. In the dog days of summer, no less. It could suggest American consumers are hungry.
Or, on the other hand, it might indicate Americans have become so cautious they'll only jump on what (they believe) are really good deals. In the post-crisis era, non-store retail sales counterintuitively generally pick up when the economy (meaning labor market) has been on the downswing.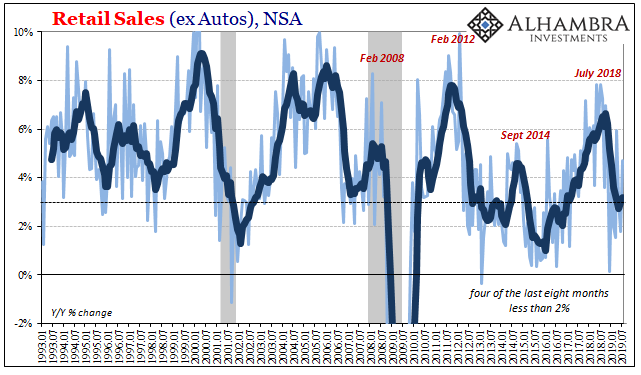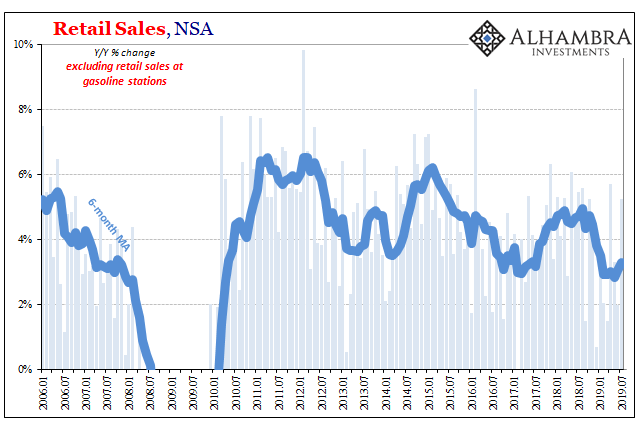 The averages all suggest that direction. If so, that would mean any "excess" Amazon was able to grab in July will have been pulled forward from August (the height of back-to-school) and perhaps September, too.
The problem is the labor market – in both analysis and for these economic descriptions. Even in CNBC's earlier commentary quoted above they repeat the same standard language; "despite steady job gains and modest wage increases." The labor market is, in everyone's mainstream estimation, still strong. Therefore, weak or uneven retail sales don't make much sense.
Disclosure: This material has been distributed for informational purposes only. It is the opinion of the author and should not be considered as investment advice or a recommendation of any ...
more