Retail Sales' Amazon Pick-Up
The rules of interpretation that apply to the payroll reports also apply to other data series like retail sales. The monthly changes tend to be noisy. Even during the best of times there might be a month way off trend. On the other end, during the worst of times there will be the stray good month. What matters is the balance continuing in each direction – more of the good vs. more of the bad.
Or when what seems to be a good month is less good than it used to be.
Retail sales had managed nearly 6% year-over-year (unadjusted) growth back in the month of April 2019. It came during the mini-outbreak of green shoot hysteria; the idea that either the economic soft patch would be transitory or the Fed pause would keep it that way.
Ironically, it was CNBC (of all places) which a published the most balanced and reasonable take on retail sales (referring to the seasonally adjusted series):
Retail sales have been on a seesaw pattern, rising at a healthy pace in January, then falling in February, followed by the big jump in March and now a drop in April. The data suggests Americans are reluctant to spend freely, despite steady job gains and modest wage increases.
Over the next few months, the picture would remain the same – a few really bad months, one of which contrarily seemed really good in seasonally adjusted terms, and now July's estimate. At 4.79% year-over-year, the latest is by no means fantastic but given the downward revised estimate for June (just 1.60%), near 5% might otherwise appear exceptional.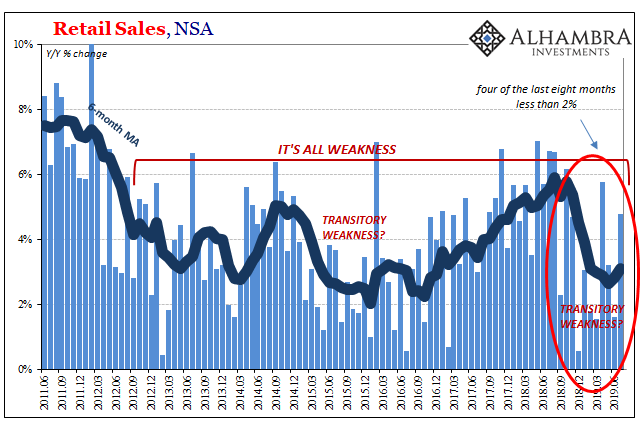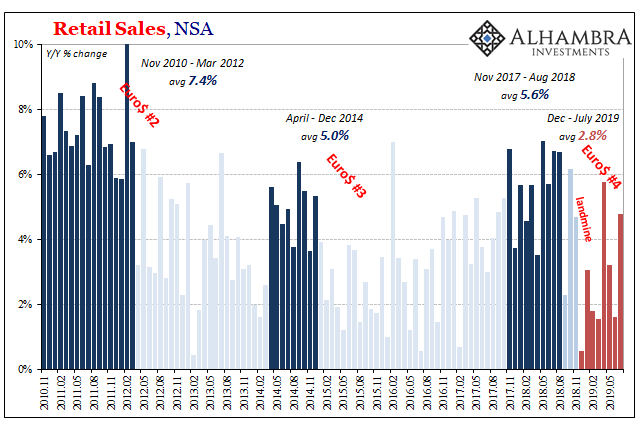 A single monthly figure is simply meaningless. Instead, over the last eight months (since the landmine) there have been four months with increases less than 2% and only twice has the gain been more than 4%. On balance, consumer spending has clearly turned downward despite all the continued (emotional) attachment to the unemployment rate.
Even July's seemingly good month would have qualified as a questionable one a year ago.
Disclosure: This material has been distributed for informational purposes only. It is the opinion of the author and should not be considered as investment advice or a recommendation of any ...
more