Two Investing Habits Losing You Money – And How To Fix Them
I have the opportunities to talk to a lot of individual investors. I am a regular, invited presenter at various investor conferences, and I frequently answer email questions from my newsletter subscribers. From these interactions, I have learned that the two hardest things for investors to do is to buy shares when the market is down, and sell when profits are running. With an income focused approach, it becomes more automatic to buy low and sell high, rather than follow the herd and lock in losses when the market is down.
I continue to talk about how income-focused investors need to be able to buy shares when prices are dropping, therefore locking in higher yields. To buy when everyone is selling and when the financial news media is predicting some sort of meltdown takes two factors and some intestinal fortitude. First, you need to be very familiar with the income stocks you want to buy. You need to have a strong understanding that even if the market is dropping like a rock, the company's business can and will continue to operate as it has in the past. Second, you need to understand that if you buy in at a great share price, the price may continue to fall. At that point, you are focused on earning dividends at the yield your entry point allowed.
For example, I have been following aircraft leasing company Aircastle Limited (NYSE: AYR) for a decade. I know that this is a very well-run company that generates free cash flow of three to four times the dividend payments. I also know that management will continue to increase the dividend by 8% to 10% each year. In the mid $20's, AYR yields under 4%, and that yield plus the growth potential is not a compelling value.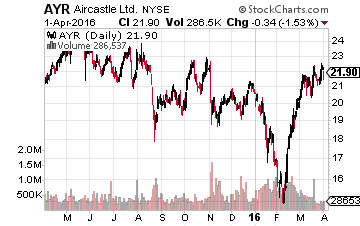 However, when the stock drops under $20, the yield approaches or exceeds 5%, and I am a willing buyer. Back in mid-February, during the market correction, AYR declined below $16 per share and I made the stock the recommended buy of the week for my Dividend Hunter newsletter subscribers. The market has recovered, and AYR has soared. Those who bought on my recommendation are now sitting on a 44% gain and hold shares with a yield on cost of 6.2%.
Disclosure: There are currently over twenty of these stocks to choose from in my more