This REIT Pays An Incredible 8.7% Dividend And Is A Rock-Solid Takeover Target
Real estate is the top-performing asset of the last two decades. And it's one of the best assets to own in a period of low-interest rates.
With the Dow and S&P 500 sitting near record highs, a run on real estate is about to ensue once again.
Private equity and other Wall Street giants are building multibillion-dollar firms with one focus: to buy real estate assets that generate income and can push to new record levels.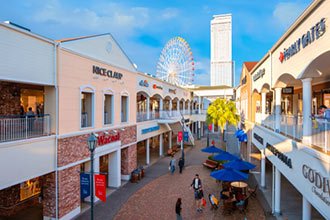 One of the best ways to tap into the sector is through real estate investment trusts (REITs). These publicly traded vehicles offer a stable dividend and incredible upside.
But choosing between the hundreds of different REITs can be a challenge for mom-and-pop investors.
This system ranks 1,500 of the world's most profitable companies on a scale from 1 to 4.9, based on a proprietary algorithm developed by our team's top data scientists.
Within the last 12 months, the VQScore has identified breakout returns for investors – like 67% on JBL, 93% on RH, and even 118% on SEDG.
Today, I've identified a REIT with a near-perfect VQScore, signaling that it's a great time to buy.
Buy This REIT for Huge Upside
Tanger Factory Outlet Centers Inc. (NYSE: SKT) is the only pure-play public outlet REIT on the market.
In fact, Tanger has opened 27% of all new outlet centers built since 2011. In total, the firm operates and owns 39 upscale outlet shopping centers around the United States and Canada.
With roughly 14.3 million square feet of property, the company has more than 2,900 leased locations.
It has a diverse customer base of 510 branded companies that attract roughly 181 million visitors each year.
The company's ability to diversify its base is an intriguing factor that makes the company so attractive.
The firm's executive team has an average of 15 years in the business. With 58% of their properties located near major tourist destinations, they've become experts in selecting outlet centers around major metro centers or tourist destinations.