This High Profile REIT Merger Is A Win-Win For Shareholders
The just-announced merger between Starwood Waypoint Residential Trust (NYSE:SWAY) and Colony American Homes has the potential to form a top-performing REIT.
SWAY was spun off by finance REIT Starwood Property Trust (NYSE:STWD) in January 2014. Since the IPO, the company has grown its portfolio from 5,300 rental homes/46% leased to 12,500 homes/92% leased at the end of the 2015 second quarter. SWAY started paying a $0.14 per share dividend in September 2014 and recently increased that payout by 35%. However, the SWAY share price is down 10% from the price on the spin-off date.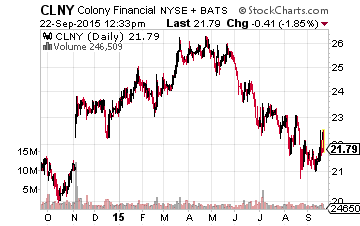 Colony American Homes is the SFR subsidiary of Colony Capital (NYSE:CLNY). Colony American Homes owns 17,700 homes of which 93% are leased out. CLNY has not been able to successfully spin-off the SFR company with a public IPO.
The merger will involve the exchange of 69.4 million new SWAY shares in exchange for 100% ownership of Colony American Homes. Starwood's Barry Sternlicht and Colony's Thomas Barrack will serve as non-executive co-chairmen. President Colony American Homes Fred Tuomi will be CEO. SWAY CEO Doug Brien will be president and chief operating officer. The current external management will be internalized into Starwood Waypoint. Planned completion of the merger is in early 2016.
Investment Potential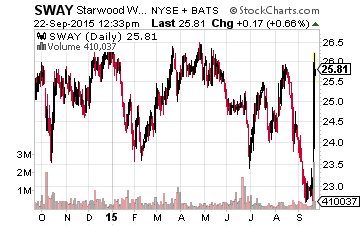 Once the merger is complete, SWAY will own over 30,000 homes with a market value of $7.7 billion. Using the current SWAY $25.60 share price, the company will have a $2.8 billion market cap. The primary benefit of the merger is a planned expense reduction of $40 to $50 million per year. This level of savings works out to about $0.50 in accretive cash flow per year by 2017. For perspective, SWAY has provided 2015 FFO guidance of $1.65 to $1.80 per share. As Sternlicht noted in the merger announcement conference call, "Scale is the answer to drive operating costs through the ground."
After the merger the expectations are that SWAY will have a book value of more than $29 per share and an NAV in excess of $31 per share. The management hope is that the larger size of SWAY will draw more institutional investor interest and pull the share price up closer to book/NAV. Sternlicht shared in his comments that he believes that at scale SFRs provide better gross margins than apartments. (His privately held Starwood Capital owns over 30,000 apartment units.) The single-family housing market is expected to produce 12% to 15% annual total returns from a combination of rent yields, price appreciation and the use of a moderate amount of leverage.