These REITs Are Expected To Increase Dividends In November
2019 has been volatile, but so far into the year, a positive one for income stock investors. If you look at the Vanguard REIT Index Fund (VNQ) you see that 2019 has produced a steady increase in REIT values.
After a great first nine months of the year, the market is showing signs of strain and fears about an economic slowdown. There is also lingering fear from last year's fourth-quarter market correction. Investing for dividend growth may be the best path to close out 2019 and into the new year.
Most REITs that regularly increase dividends do so once a year, and then pay the new dividend rate for the next four quarters. The timing of dividend increases is not widely followed, so if you know a bump in the payout rate of a REIT is coming, you can buy shares before the announcement and have a good chance at a nice share price boost when the new rate becomes actual news.
One of my income stock analysis techniques is to develop and maintain a database of REITs that tracks when, during the year, they have historically announced new dividend rates.
Currently, I have about 130 REITs in the database, and out of those, 90 have been increasing their payouts to shareholders.
While these REITs announce new dividend rates once a year, the timing varies. For every month of the year, there are companies that will announce a new rate.
Now is the time to look at the REITs that should increase dividends in November. If you buy shares three to four weeks ahead of the dividend announcement, you will be ahead of the crowd. The higher rate should produce a share price increase. In the worst case, your yield will go up compared to the current percentage quoted.
Here are three REITs that will most likely announce dividend boosts in November.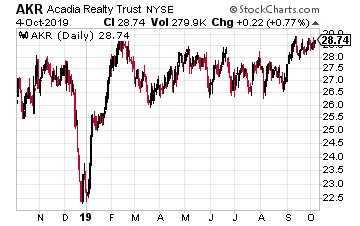 Acadia Realty Trust (AKR) acquires, redevelops, and manages retail properties in the nation's most dynamic urban and street-retail corridors, including those in New York, San Francisco, Chicago, Washington DC, and Boston.
Disclaimer: The information contained in this article is neither an offer nor a recommendation to buy or sell any security, options on equities, or cryptocurrency. Investors Alley Corp. and its ...
more