These 5 REITs Are Expected To Raise Dividends In December
We are almost at the end of another year, and I hope your dividend income stream has marched steadily higher throughout 2019.
Tracking your dividend income and managing your portfolio to grow that income makes it easier to go through market corrections as we saw in the final quarter of last year.
One bit of assistance I like to provide is to list those real estate investment trusts (REITs) that should announce higher dividend rates in the upcoming months. This knowledge can give you a jump on the rest of investing public, which will be surprised when the positive news is actually announced.
I maintain a database of about 130 REITs. With it, I track current yields, dividend growth rates, and when these companies usually announced new dividend rates. Most REITs announce a new dividend rate once a year, and then pay that rate for the next four quarters.
Currently, about 85 REITs in my database have recent and ongoing histories of dividend growth. Out of that group, higher dividend announcements will happen during almost any month of the year. In the face of market volatility, REIT values held up reasonably well in 2018. Dividend increases are the best defense against higher market interest rates. Higher dividend announcements may be the catalyst to higher share prices for individual REIT shares.
My list shows five companies that historically announce higher dividends in December and should do so again this year. Investors will start earning higher payouts in the new year. Remember, you want to buy shares before the dividend announcement to get the benefit of a share price bump caused by the positive news event.
Here five on my short list you might want to consider: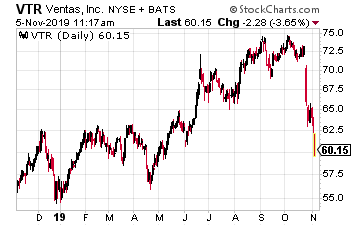 Ventas, Inc. (VTR) is a large-cap REIT that owns a portfolio of properties leased by companies providing the full range of healthcare services.
Ventas has done very well for investors, growing its dividend at a compounding 8% annual rate since 2001. For the last three years, revenue and cash flow growth has been a challenge across all healthcare REITs.
Disclaimer: The information contained in this article is neither an offer nor a recommendation to buy or sell any security, options on equities, or cryptocurrency. Investors Alley Corp. and its ...
more