These 3 REITs Are Expected To Announce Dividend Increases In January
To build momentum from your income stocks going into the new year, consider buying into those REITs that should announce higher dividend rates in the first month of 2020. Each month I publish a list of those real estate investment trusts (REITs) that should announce higher dividend rates in the upcoming months. This knowledge can give you a jump on the rest of investing public, which will be surprised when the positive news is announced.
I maintain a database of about 130 REITs. With it I track current yields, dividend growth rates and when these companies usually announced new dividend rates. Most REITs announce a new dividend rate once a year, and then pay that rate for the next four quarters.
Currently about 85 REITs in my database have recent and ongoing histories of dividend growth. Out of that group, higher dividend announcements will come from different REIT companies during almost every month of the year. With the potential of continued low yields on fixed income investments, the prospects of higher dividend payments coming in January will help to offset any share price disruptions resulting from announcements out of the Federal Reserve Board.
My list shows three companies that historically announce higher dividends in January and should do so again this year. Investors will start earning the higher payouts in the new year. But remember, you want to buy shares before the dividend announcement to get the benefit of a share price bump caused by the positive news event. Here is this of REITs to consider: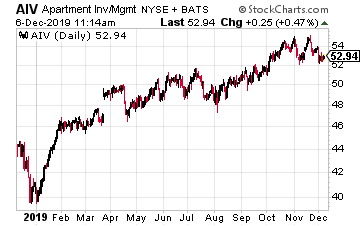 Apartment Investment and Management (AIV) is a mid-cap sized REIT that owns and operates about 140 apartment communities. About 40% of the company's properties are in coastal California, with the balance spread across major U.S. metropolitan areas.
Last year, AIV increased its dividend by 3%. Also, in early 2019 the company declared a $2.02 special dividend. You can't count on special payouts, but it does show a company focused on getting cash back to investors.
Disclaimer: The information contained in this article is neither an offer nor a recommendation to buy or sell any security, options on equities, or cryptocurrency. Investors Alley Corp. and its ...
more