The Warren Buffett Of Real Estate
"That's the end of the game I liked, the 15 percent take with no risk."
-Warren Buffett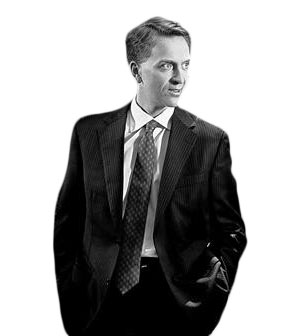 Brookfield Asset Management (NYSE:BAM) CEO Bruce Flatt is the Warren Buffett of real estate. The publicly traded partnership that holds the Brookfield Asset Management global real estate is Brookfield Property (NYSE:BPY). It owns and operates commercial properties including office, retail, industrial, and multifamily facilities. BAM has compounded at about 15% for decades without taking undo risk. Today, shares cost only 71% of NAV. Management intends to reduce this discount through share buybacks.
Brookfield owns a third of General Growth (NYSE:GGP). For every 10,000 shares of BPY you buy, you can short 4,429 GGP in order to hedge out that exposure. Alternatively, you can write calls such as the GGP 1/19/2018 $27 calls which have a bid of $3.15 and an ask of $4.15 (one would write 44 such calls per 10,000 BPY for a total premium of about $14,000). It is reasonable to expect that this stake will be monetized in the interim. Simon Property (NYSE:SPG) wants to acquire GGP and could purchase BPY's stake in the process.
Meanwhile Brookfield Asset Management is trying to buy Rouse (NYSE:RSE). They have offered $17.00 per share and would probably need to offer closer to $19.50 in order to close a deal.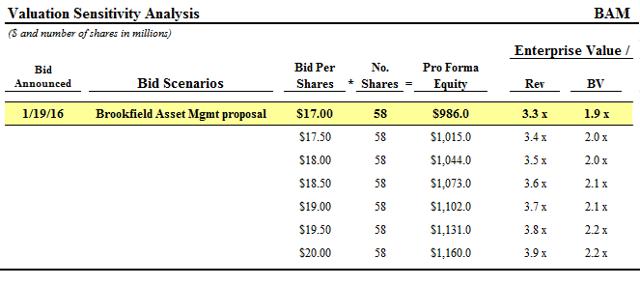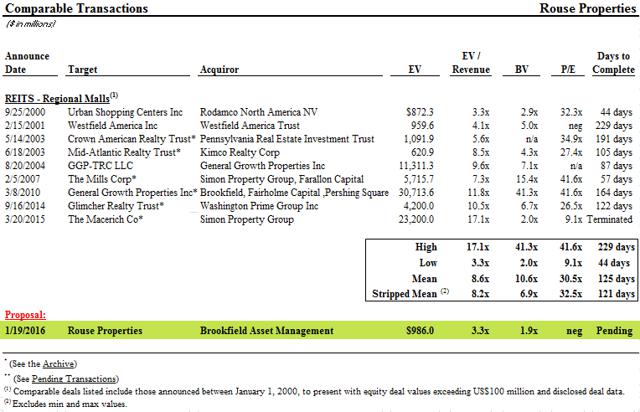 BAM already owns about a third of Rouse.
Today, the BPY stub costs $8.96 per share with an intrinsic value of around $11.50-12. Most companies with 29% discounts to their NAV deserve to trade at a discount. Bruce Flatt's Brookfield is the rarity that deserves a premium.
Disclosure: I am/we are long BPY.
Additional disclosure: Chris DeMuth Jr and Andrew Walker are portfolio managers at Rangeley Capital. Rangeley invests with a ...
more