The Reason The US Housing Market Is Falling
The hot topic on Wall Street is the weakness in the housing market. The most obvious cause for concern for macro investors stems from the crash in housing stocks. The XHB index which measures the housing market is at a 22 month low. It's down 22 out of the past 24 trading days and is down 29% since January. Furthermore, the KBE small bank ETF is down 18% from its March high as it is at its 52 week low. The Nasdaq bank index had its worst 5 day RSI in over 20 years. Macro investors are trying to determine if this correction prices in the weakness or if it is a warning sign for an oncoming correction in housing prices.
Home builders are experiencing significant pain because the housing market is weakening, the metals tariffs have increased costs, and the labor market is tight which has heightened wage inflation. The chart below which shows housing starts, is signaling a problem for these firms.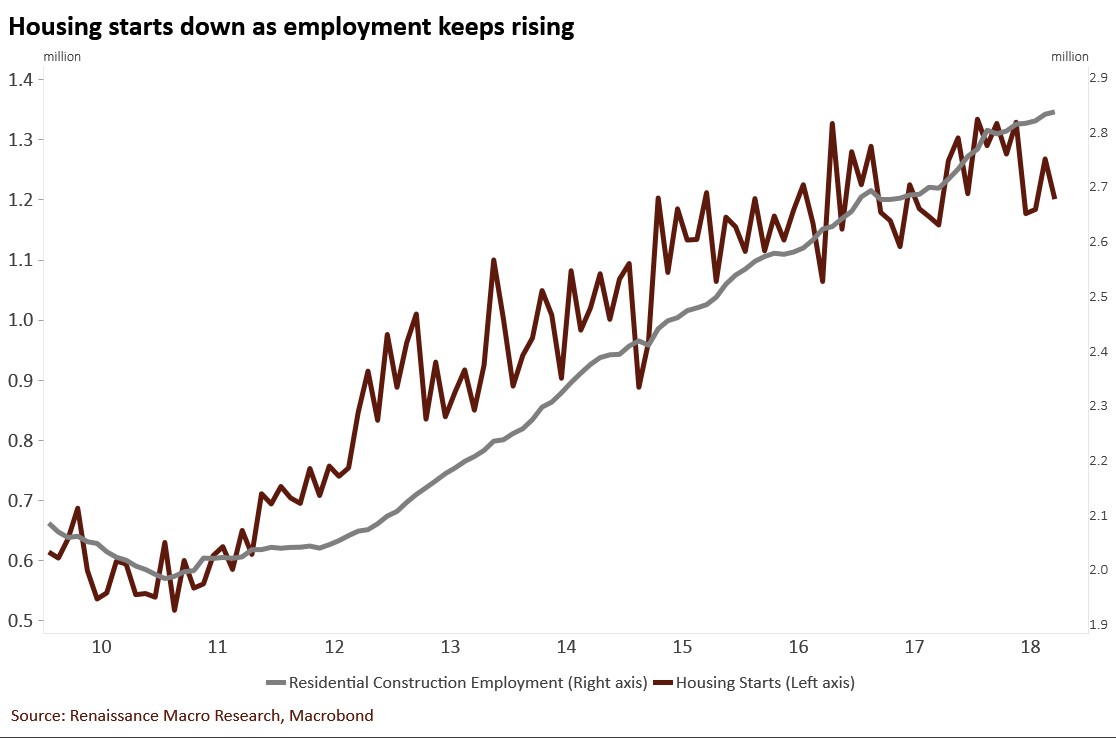 Source: Renaissance Macro Research
The chart shows housing starts have started to fall while residential construction employment has risen. These firms have hired many workers at heightened pay, but are building fewer houses. It's the worst combination: margin and revenue compression.
Leading Home Price Index Weak
Some investors use stocks as their guide for future economic growth. However, this can only be one guide because the home builder industry faces other negative catalysts besides weakness in the overall market. The ECRI leading index for the overall economy shows year over year growth of only 0.1% which signals a slowdown. The leading home price index growth is even worse as its decline of over 1% is the worst since 2009.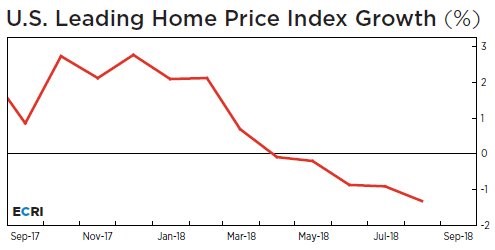 Source: ECRI
Weak Housing Permits
As was shown in the first chart, housing starts have been weak. In the most recent report, housing starts fell from 1.282 million in August to 1.201 million in September. This is seasonally adjusted annualized data, so you can compare each month. Starts fell 13.7% in the Midwest which wasn't affected by a hurricane and 14% in the south which was affected by hurricane Florence. Building permits fell 1% year over year to 1.241 million. Multi-family housing permits fell 7.8% and single family permits were up 2.4%. As you can see from the Bloomberg chart below, U.S. multi-family housing permits were the weakest since March 2016.
Disclaimer: Please familiarize yourself with our full disclaimer here.