The Best REIT To Buy In September Just Earned A "Perfect Grade"
Last week, former U.S. Federal Reserve Chair Alan Greenspan warned that negative interest rates were coming to the United States.
Naturally, investors are nervous about owning bonds with a negative return. But the recent bond bubble is limiting your chances to generate solid income returns.
For this reason, I recommend you keep an eye on the real estate industry.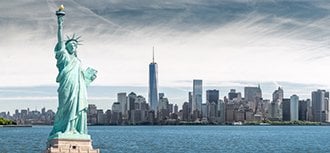 REITs have historically provided investors with high, steady dividends by generating income from working real estate assets.
These alternative investments have historically outperformed in environments when interest rates fall. And they provide distinct tax advantages that you can rarely find anywhere else…
This REIT Tops Our List
Vornado Realty Trust (NYSE: VNO) is our No. 1 REIT to buy for September with a 4.9 VQScore. This indicates it's a "Strong Buy" now.
Vornado Reality is one of the best landlords in New York City. This city traditionally weathers economic storms and sees demand for limited space rise consistently.
The company owns 2.6 million square feet of street retail space in the city and manages about 20 million square feet of office space.
From a property angle, it's very hard to find a portfolio of assets that rival Vornado's war chest. Its portfolio includes:
Amazon's NYC headquarters at 7 West 34th Street
Bloomberg's NYC headquarters at 731 Lexington Avenue
Neuberger Berman NYC headquarters at 1290 Avenue of the Americas
More than 10 million square feet in the Penn District, NYC, including One Penn Plaza
New York City is the top city for business, according to a McKinsey Report that Vornado discussed in its 8-K filing earlier this year.
The city alone represents 8.3% of U.S. GDP and more than 2.5% of total global economic activity.
And Vornado is tapping directly into that level of economic activity. Roughly two-thirds of the company's income is tied directly to New York City.

Where Vornado Goes from Here