Is This Dividend Stock Is Too Good To Be True?
f you are an income investor, you will probably soon run across a new, 10% yield REIT,Communications Sales & Leasing Inc. (NASDAQ:CSAL). While CSAL has a good story, this company needs some seasoning before income focused investors decide to jump in. Don't drink the Kool-Aid, wait for the meat.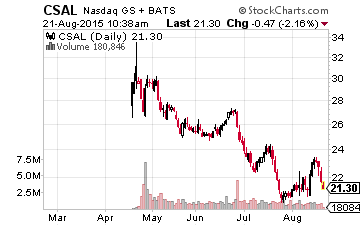 CSAL has started a brand new category of REIT. The company owns fiber optic and copper wire telecom infrastructure assets which are used by telecom service providers. CSAL leases out its owned assets on long-term (15 years plus) triple net leases. The company launched with an April 2015 IPO as a spin-off from Windstream Holdings, Inc. (NASDAQ:WINWIN). With a planned $2.40 annual/$0.60 quarterly dividend, the new REIT was priced at $30 to yield 8%. The shares now trade at $22.80, pushing the current yield up to 10%.
The investment analysis of CSAL has two parts: What the company is, and what it says it will be.
Currently, CSAL (with a $3.5 billion market cap) has a single customer, Windstream Holdings, which the market values at $680 million. This is the biggest risk to CSAL: All of its eggs are in one basket, and the basket consists of a single small-cap telecom company.
The lease with Windstream will not generate enough cash flow in 2015 to cover the planned dividend payments. In its second quarter earnings report, CSAL provided 2015 cash flow guidance of funds from operations –FFO– between $1.71 and $1.73 common share and AFFO between $1.73 and $1.75 share. In REIT analysis, AFFO is the cash available to pay dividends. The company declared a $0.60 dividend for the second quarter and will pay two more for the rest of 2015, bringing the total payout to $1.80 for the year. The realized FFO per share is below the dividend rate primarily because the company's second quarter results came from less than a full quarter due to the late April IPO date. A little prudence on management's part would have had the company pay a pro-rated dividend for the second quarter. No reason was given for a full payout from shortened quarterly results.
There are great opportunities in the tax-advantage master limited partnership –MLP– sector. MLPs develop, own and operate a large portion of ...
more